YORKSHIRE, GREAT BRITAIN. The Russian cyclist Aigul Gareeva has proclaimed champion of the junior time trial world after winning a time of 22 minutes and 16 seconds in the test this Monday at the Yorkshire World Championships (Great Britain) road cycling over a distance of 13, 7 kilometers of travel.
They accompanied Gareeva on the podium, which happens on the winners to the Dutch Rozemarijn Ammerlaan, also the Dutch Shirin van Anrooij, silver at 3 seconds, and the British Elynor Backstedt, bronze as in 2018, this time at 10 seconds from the winner. Fourth was the Italian Camilla Alessio, silver last year.
Gareeva, seventh in 2018, won even after he was wrong at the end of the tour, but gave him time to turn around to keep the gold from the harassment of Van Anrooij, this first-year runner in the category, 2002.
With the Russian already ahead from the halfway point, the Dutch woman won a place in goal beating the British Backstedt, who gave 17 seconds on Van Anrooij from the first chronometric reference of the organization (Km. 6.3) in the circuit from Harrotage. In which all the World Cups online races will end.
ITT JUNIOR CLASSIFICATION (13.7 KM).
Aigul Gareeva (RUS) 0:22:16 GOLD
Shirin van Anrooij (NED) +0:00:04 SILVER
Elynor Backstedt (GBR) +0:00:11 BRONZE
Camilla Alessio (ITA) +0:00:15
Wilma Olausson (SUI) +0:00:17
Leonie Bos (NED) +0:00:21
Zoe Ta-Perez (USA) +0:00:26
Sofia Collinelli (ITA) +0:00:36
Megan Jastrab (USA) +0:00:45
Ella Wyllie (NZL) +0:00:51
Noemi Rüegg (SUI) +0:00:53
Frances Janse van Rensburg (RSA) +0:00:57
Julie de Wilde (BEL) +0:01:11
Lea Curinier (FRA) +0:01:16
Annika Liehner (SUI) +0:01:17
Catalina Anais Soto (CHI) +0:01:20
Paula Leonhardt (GER) +0:01:21
Yareli Acevedo (MEX) +0:01:21
Mariia Miliaeva (RUS) +0:01:23
Lara Gillespie (IRL) +0:01:24
Lucy Mayrhofer (GER) +0:01:25
Magdeleine Vallieres (CAN) +0:01:25
Nora Jencusova (SVK) +0:01:25
Nika Jancic (SLO) +0:01:34
Veronika Jandova (CZE) +0:01:36
Amelia Sharpe (GBR) +0:01:36
Ulyana Sukhorebrik (KAZ) +0:01:39
Cedrine Kerbaol (FRA) +0:01:39
Anne Dorthe Ysland (NOR) +0:01:39
Camille Primeau (CAN) +0:01:46
Femke Gerritse (NED) +0:01:49
Tuva Byberg (NOR) +0:01:52
Daniela Campos (POR) +0:01:59
Akvile Gedraityte (LTU) +0:02:00
Sofiia Shevchenko (UKR) +0:02:04
NAIA AMONDARAIN (ESP) +0:02:14
Kristýna Burlová (CZE) +0:02:18
Nina Berton (LUX) +0:02:19
Natalia Krzeslak (POL) +0:02:20
Julia Kowalska (POL) +0:02:39
Mette Egtoft Jensen (DEN) +0:02:40
Daniela Soler Espinosa (COL) +0:02:40
Kelsey Jade Van Schoor (RSA) +0:02:51
Diana Bukanova (KAZ) +0:03:01
Victoria Velasco Fuentes (MEX) +0:03:10
IRATI PUIGDEFABREGAS (ESP) +0:03:12
Maria Bertelsen (DEN) +0:03:23
Lina Svarinska (LAT) +0:03:36
Ana Ahacic (SLO) +0:03:52
Dorka Jordán (HUN) +0:04:05
Antonio Tiberi proclaims junior World Time Trial Champion
The Italian cyclist Antonio Tiberi succeeded Monday the Belgian Remco Evenepoel as junior world champion of individual time trial, after winning a time of 38 minutes and 28 seconds in the test this Monday at the Yorkshire World Championships (Great Britain) cycling in route over a distance of 27.6 kilometers.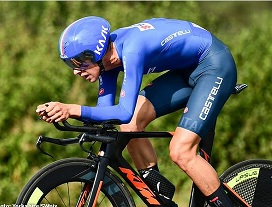 Tiberi won despite suffering a mechanical breakdown on the same exit ramp, which emulated the other champion of the day, the Russian Aigul Gareeva, who won the junior women's event after being wrong at the end of the course and having to turn around to head back towards the goal.
The winner came out in the third of the five groups in which the runners were divided, and surpassed the big favorites, which came out last.
Among them, his compatriot European and bronze champion in 2018 Andrea Piccolo and the American Quinn Simmmons, who did not reach the podium and finished sixth and fourth, respectively, going more and less in the test. (EFE).
ITT JUNIOR MEN CLASSIFICATION (27.6 KM).
Antonio Tiberi (ITA) 0:28:28 GOLD
Enzo Enzo Leijnse (NED) +0:00:08 SILVER
Marco Brenner (FER) +0:00:13 BRONZE
Quinn Simmons (USA) +0:00:20
Michel Hessmann (GER) +0:00:28
Andrea Piccolo (ITA) +0:00:30
Lars Boven (NED) +0:00:44
Leo Hayter (GBR) +0:00:51
Oscar Nilsson-Julien (GBR) +0:01:00
Finn Fisher-Black (NZL) +0:01:06
Johannes Staune-Mittet (NOR) +0:01:14
William Blume Levy (DEN) +0:01:19
Andrii Ponomar (UKR) +0:01:27
Fredrik Gjesteland Finnesand (NOR) +0:01:30
German Dario Gomez (COL) +0:01:34
Henri Treimuth (EST) +0:01:42
Michael Garrison (USA) +0:01:55
Hugo Page (FRA) +0:02:00
Patrick Eddy (AUS) +0:02:00
Kevin Mccambridge (IRL) +0:02:04
Joshua Gudnitz (DEN) +0:02:15
Artjom Mirzojev (EST) +0:02:17
Andrea Piras (ITA) +0:02:19
Fran Miholjevic (CRO) +0:02:26
Jacob Rubuliak (CAN) +0:02:27
Maximilian Kabas (AUT) +0:02:28
Logan Currie (NZL) +0:02:35
Lars Van Ryckeghem (BEL) +0:02:36
Reuben Thompson (NZL) +0:02:49
Kevin Vauquelin (FRA) +0:02:50
Maksim Bilyi (UKR) +0:02:51
Bostjan Murn (SLO) +0:02:59
Branko Huys (BEL) +0:02:59
Carlos Rodríguez (ESP) +0:03.04
Dmitriy Noskov (KAZ) +0:03:10
Fabio Christen (SUI) +0:03:18
Gal Glivar (SLO) +0:03:20
Maxim Popugayev (KAZ) 0:03:29
Damon Fouche (RSA) +0:03:33
FERNANDO LOPES (ESP) +0:03:37
Jakov Gusev (RUS) +0:03:42
Mathias Vacek (CZE) +0:03:42
Yurii Butrekhin (RUS) +0:03:51
Finley Newmark (IRL) +0:03:57
Zygimantas Norutis (LTU) +0:03:57
Takumi Yamada (JPN) +0:04:12
Elia Blum (SUI) +0:04:18
Tullatorn Sosalam (THA) +0:04:21
Loïc Bettendorff (LUX) +0:04:30
Nicolas Vinokurov (KAZ) +0:04:31
Carlo Jurisevic (CRO) +0:04:32
Kacper Majewski (POL) +0:04:41
Pavel Bittner (CZE) +0:04:50
Joé Michotte (LUX) +0:04:55
Tristan Jussaume (CAN) +0:04:55
Michal Galka (POL) +0:04:56
Thomas Silva (URU) +0:05:03
Pavol Kramarcik (SVK) +0:05:05
Felipe Benjamin Pizarro (CHI) +0:05:18
Kristians Belohvosciks (LAT) +0:05:30
Yugi Tsuda (JPN) +0:05:51
Oded Kogut (ISR) +0:06:58
Phurit Rodvilai (THA) +0:07:03
Tiano Da Silva (RSA) DNS