Kaden Hopkins and Caitlin Conyers successfully retained their Bermuda Time-Trial National Championships crowns at Clearwater Beach yesterday.
In challenging conditions, both handled the overwhelming expectations to race home to victory in the Open Male category and Open Female category respectively.
Hopkins held off strong competition from Connor White and Tyler Smith to take top honours in a winning time of 41min 18sec and maintain his scintillating form, having won three successive races — the VT Construction Individual Time-Trial, Bermuda Rouleurs Cycle Club Individual Time-Trial and the Winners Edge Individual Time-Trial.
"It was great to maintain that recent momentum in what was a really tough race," the 20-year-old said. "It was really hot out there on the bike and any hotter it could have been a real issue.
"Despite the heat I felt pretty good, although I didn't ride as strongly as I would have liked to.
"I definitely feel an added pressure in these races. I come out and it feels like all eyes are on me to win and it can make it a little more stressful.
"However, time-trials are mostly about the mental side of things and thankfully I've always been pretty strong mentally and it worked. Every race I just try to go out there and give it all I have and being national champion is a big achievement. It is something I strive for every year and it feels great to still be a national champion."
Second-placed White, who finished in 41:46, echoed Hopkins's sentiments regarding the elements as the major factor in a challenging ride.
"As well as the heat, the wind made things really tricky as well," he said. "It all made for a really tough course, but it is was a good challenge. That was my best time-trial ride so far and I'm trying to focus more on this discipline so it's really promising for me.
"I managed to hit 2kmh faster than I was before and so hopefully with more training and races I can keep improving."
Meanwhile, for Smith, who is more recognisable as a triathlete, a third-place finish represented far more than a place on the podium as he continues to exploit Bermuda's wealth of cycling talent to improve his overall development.
"I knew today would have taken something special to get any more than third and so I can't complain," said Smith. "I'm hoping to get some triathlon races in the near future but for now it's a pleasure to do something competitive and challenge myself against these guys.
"It's also amazing to have this level of competition in Bermuda and have these sort of guys to train with who are at an amazing level. For me as a triathlete, it's amazing to learn things in the individual disciplines to then be able to incorporate that in the multi-discipline events. It's an ideal scenario for myself."
In the build-up to the championships, Conyers spoke of the opportunity to use the race as a gauge of where her racing levels were at having returned to Bermuda after being forced to put her professional cycling aspirations in the United States on hold because of the Covid-19 pandemic.
Despite retaining her status as the island's top female cyclist, Conyers who crossed the finish line in 40:23, conceded yesterday's outing proved an eye-opener on a personal level and far from straightforward ride.
"Luckily for me there was only two competitors in my field so thankfully I got away with not being at my best," admitted Conyers, who was forced to stop on the second lap to reattach the timing chip to her bike.
"It was definitely not my best performance, but it was good none the less to get back in racing mode and I now know what I need to do to my levels back up.
"The heat was a real factor and I haven't really been on my time-trial bike too much in the last three months. I wasn't able to put out the power I had hoped to but it was a learning experience and the biggest plus is that it was much needed time on the bike."
The Junior Male Championship category was anticipated to be the fiercest fought and so it proved with Alexander Miller ultimately taking the honours in a time of 28:52, just under three seconds ahead of Nicholas Narraway, with Liam Flannery in third.
"It's really exciting to be national champion and I'm really happy," Miller said. "The crosswinds all over the course made it pretty challenging but thankfully I managed to give it my all and win."
Meanwhile, Narraway spoke of the joy at being back in a competitive scene after months of training during the pandemic.
"It's been a long period of just training and a few group rides but no real races," he added. "Today was tough but it was great to be back out there racing and seeing where you compare to the others."
It also proved a memorable day for Liana Medeiros, who was delighted to be crowned Junior Female champion, after crossing the line in a winning time of 38:09.
"I never really expected to win a national championship and so that's really exciting," she said.
Kris Hedges continued his rivalry with Geoff Smith in the Masters Male category coming away with victory in 48:06, while Karen Smith proved victorious in the Masters Female category ahead of Jennifer Lightbourne and Caroline Wright.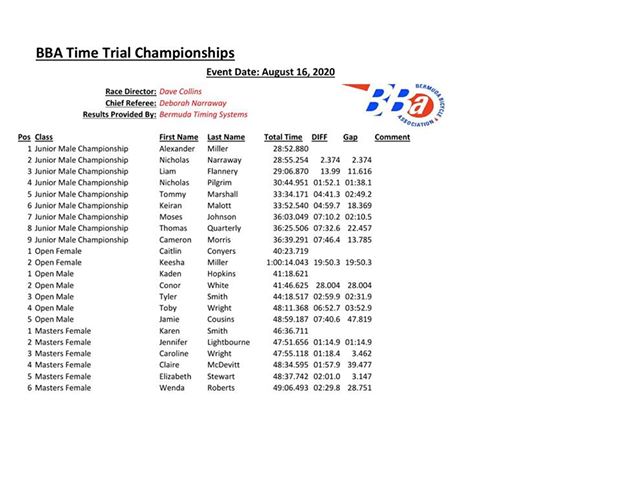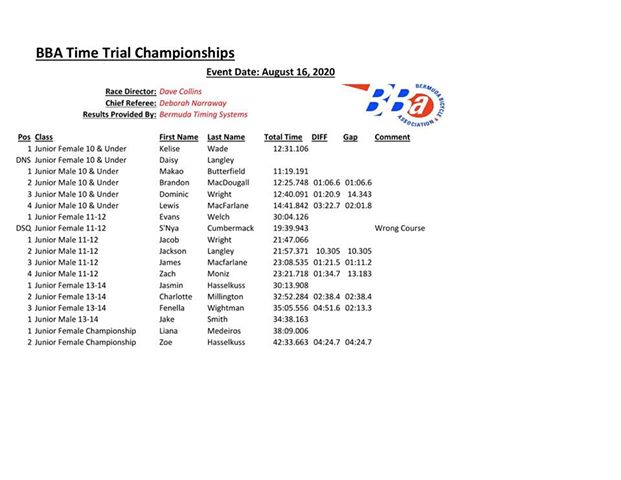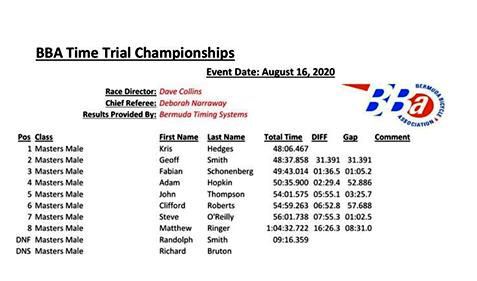 SOURCE: Bermuda Bycicle Association and http://www.royalgazette.com/