Brazilian para-cycling said goodbye this Friday the 18th to the first Para-cycling Pan American on Track in history, held at the Maringá Municipal Velodrome. The Brazilians won 48 medals, fifteen gold, sixteen silver and seventeen bronze. The results will also be key to defining the first places for the Paris 2024 Paralympic Games.
"Starting the Paralympic qualifying race ahead of time is very important, because arriving earlier in the classification of some places allows us to carry out an even more specific preparation, which allows greater peace of mind and confidence for the athletes and the entire coaching staff. In other words, we can reach an unprecedented number of places for Paris 2024, thus increasing the chances of a medal for Brazil", declared Edilson Rocha "Tubiba", Para-cycling coordinator of the CBC.
A reference in para-cycling today, Lauro Chaman completed his participation in the Track Parapan with three gold medals. Even with a lot of marking, the athlete showed an excellent moment and put Brazil on top of the podium in the 1km, scratch and Omnium time trial.
"Being part of the history of Brazilian para-cycling is very rewarding. Today we live in a very important moment for sport. Being able to receive athletes from all over the continent to compete in our home in an event of this level is very important for the evolution of Brazilian athletes. I am finishing my participation in the track very happy. I want to thank CBC and CPB for all the work and care they have shown to our sport and dedicate this result to my family", Lauro highlighted.
In the general medal table, Colombia ranked first with eighteen gold medals. In total, the Colombians still had seven silvers and two bronzes. Argentina finished in third place with twenty-four medals, seven golds, ten silvers and seven bronzes.
This weekend, the 19th and 20th, the Pan American Road Paracycling Championship will be held, also in Maringá, Paraná. Athletes will compete in the time trial on Saturday and endurance on Sunday. The continental tournament is bringing together more than 170 athletes from 11 countries.
The Pan American Para-Cycling Championship on Track and Road is organized and held by the Brazilian Cycling Confederation (CBC) in collaboration with the Pan American Cycling Confederation (COPACI), the Paraná Cycling Federation (FPC), sponsored by the Brazilian Paralympic Committee ( CPB), Government of the State of Paraná, through Proesporte and Copel (Companhia Paranaense de Energia), and support from the Municipality of Maringá.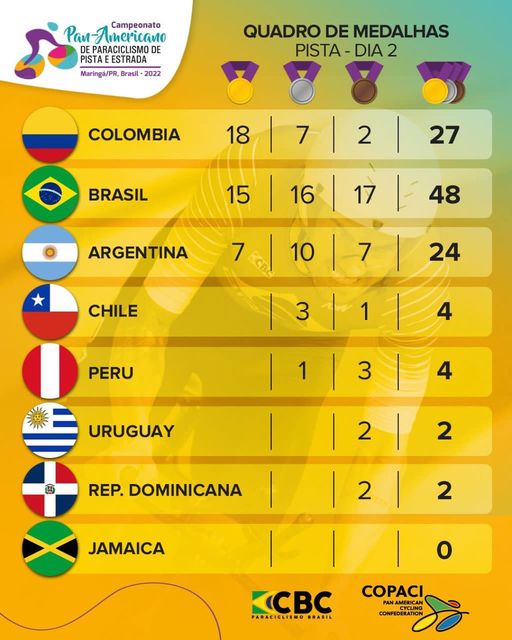 Taken from http://www.cbc.esp.br/
Photo: Credit: Alan Modesto/CBC