The 2021 Tour of Boyacá closed this Sunday with two names at the top of the podium: Camila Valbuena and Jeisson Casallas, who finished first and second, respectively, in the fifth segment of the race.
After five days of competition, Camila Valbuena, was consecrated in Fishing and obtained a fought title in the contest, after defeating the triple champion Ana Cristina Sanabria.
"I'm really very happy because things finally start to give us after difficult times. This title tastes like glory. I take this opportunity to dedicate this title to a very important person who left recently and who gave me the strength to be here, "said Valbuena.
The rider of the Colombia Tierra de Atletas club GW Shimano ratified her great moment on the last day of the Vuelta and celebrated her second stage victory in the Boyacá Giro showing great superiority despite giving up the lead in the second stage.
"Thanks to the help of my entire team, to the great work we have been doing, we continue to confirm that we are the strongest team in Colombia. It was a very beautiful stage, things came to us with about 50 kilometers to go and we enjoyed the victory ", added the Bogota rider.
The 24-year-old cyclist, she will take a well-deserved rest after a hectic week of competition before facing the last race of the national calendar in order to close the year in the best way.
"We are on the right track for what remains. Looking forward to this last day of competition, we come from eleven days of racing, and it is coming to recover to end the year in the best way in the Women's Tour ", concluded the Colombia Tierra de Atetas runner GW Shimano.
George Tibaquirá wins in Fishing
The land team said goodbye with victory to the Tour of Boyacá 2021. George Tibaquirá (EBSA) took the victory of the last stage disputed between Ventaquemada and Pesca over a route of 156 kilometers; while Jeisson Casallas, from Colombia Tierra de Atletas GW Shimano, retained the great champion's flannel.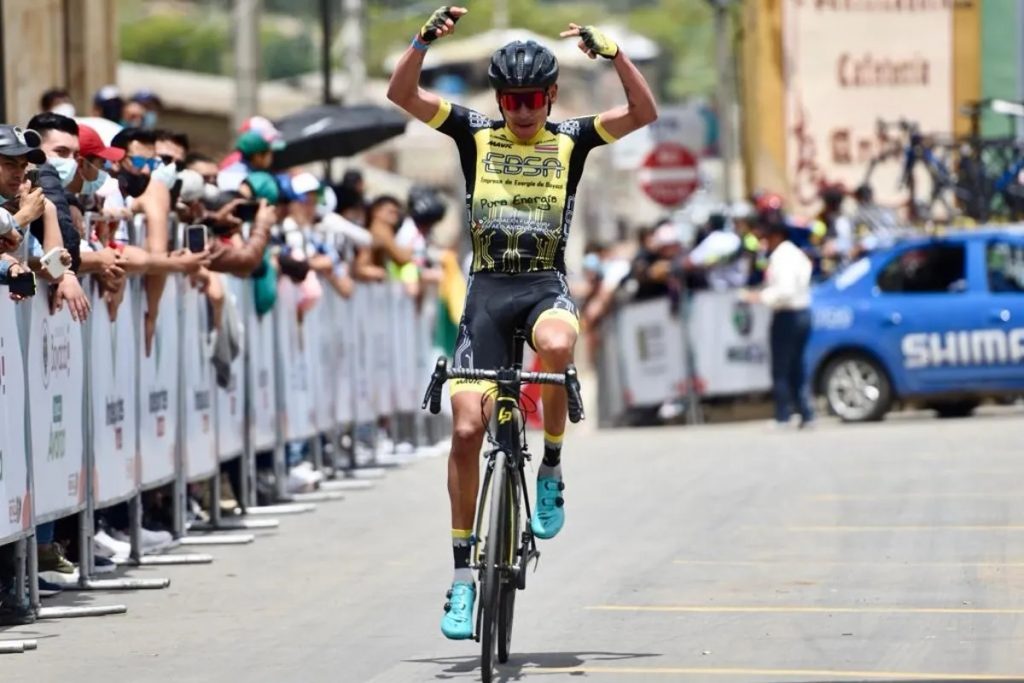 The team of the leader controlled the escape at will, however, at the end the Bogota-born Tibaquirá surprised with a withering attack that was enough to win the victory ahead of the Boyacans Jeisson Casallas (Colombia Tierra de Atletas GW Shimano) and Germán Chaves (EPM-Scott).
In the general classification, the rider from Tibaná, Jeisson Casallas, took the general title with solvency and without setbacks. The podium was completed by his teammate, Zipaquirá rider Wilson Peña, who was 2nd, and Rubén Darío Acosta (Strongman Clocks G-Fort) from Bogotá, 3rd. The great victim of the day was Dany Osorio (Pride Paisa), who lost the third box of the podium.
The day's getaway was animated by 30 men, including Robinson Fabián López (Faro Eléctrico Construcciones Zea IRDS Sogamoso), who walked several kilometers on the run, but was captured at the end.
General Classification 4 Stage
1 Jeisson Casallas Colombia Land of Athletes GW Shimano 10:56:37 ″
2 Wilson Peña Colombia Land of Athletes GW Shimano 1:23
3 Rubén Darío Acosta Strongman G-Fort Watches 6:33
4 Marco Tulio Suesca Pride Paisa 6:31
5 Germán Chaves EPM-Scott 6:41
6 Cristian Cubides Team Cómbita 6:45
7 Óscar Fernández Boyacá Advances 6:54
8 Jhon Darwin Atapuma Colombia Land of Athletes GW Shimano 6:59
9 Rafael Pineda Strongman Watches G-Fort 7:04
10 Fredy Mountain EPM-Scott 7:46