Ecuadorian Richard Carapaz successfully began the tough defense of first place in the Giro d'Italia, this May 22, 2022, when stage 15 of the competition was completed. The cyclist arrived in the main group, while the Italian Giulio Giccone arrived in the first place.
It was a bumpy start. The Ecuadorian was involved in a massive fall, when he was crossing kilometer five of the competition; after the incident, he got up, got on his bike and quickened his pace to rejoin the main pack.
"At the beginning I had problems, I had a big crash and I was there. Nothing has happened to me. I had to change bikes, but at the end of the day everything was pretty good", said Carapaz, who was backed by his teammates to save the stage, as he is now the top favorite to win the 105th edition of the 'Corsa Rosa'.
"It's been a bit of a crazy day. We have done a good job with the team. Having the pink jersey is still good for us. We remain focused on next week. We have several important days. It will be a decisive and very important week because there will be a lot of mountains", added the Olympic champion.
In the last mountainous week the general is played, in which the Ecuadorian will try to widen the gap to reach the final time trial with a good advantage. "For our peace of mind, we are confident with the time trial. We can do it very well. The weather we have is very good for us", concluded Carapaz.
Carapaz took first place and the pink jersey, thanks to his third place on matchday 14, where he unseated the Spanish Juan Pedro López, who was at the top for 10 days in European territory.
Stage 15 comprises 178 kilometers between the towns of Rivarolo Cavanese and Cogne. His greatest degree of difficulty will be on the end. Most of the 4,000 meters of positive slope will be concentrated in this section.
In the first instance it was mentioned that climbers, like Carapaz, would have an advantage on this day. However, it is the first time that the race ends in the aforementioned town, so there is no history.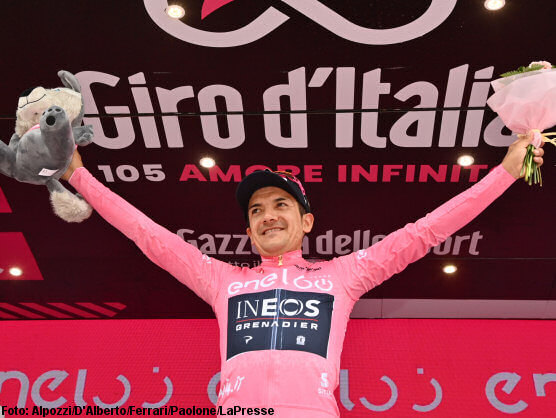 Ecuadorians
Jhonatan Narváez accompanies Carapaz in the Ineos Grenadiers and is the second best Ecuadorian in the competition. He ranks 40th, at 01:11:02.
Jonathan Caicedo, a member of the EF team, is currently in 56th place overall, 01:35:09 behind Carapaz.
Alexander Cepeda, the young Ecuadorian from Androni Giocattoli, is in 117th place at a distance of 03:03:42.