If the Colombian Carolina Munévar seems to be clear about something, it is that the titles will never be lacking in her personal showcases. And so she ratified it this weekend with a golden double at the Paracycling World Cup, held in Ostend, Belgium.
With her victory this Sunday in the long-distance test (route for the C2 Ladies category), the South American consolidated as the great Colombian figure in the first fair of the world that could be held after several months affected this discipline by Covid-19 .
The boyacense had won the gold in the individual chronometer test two days ago, and at the end of the event she ratified her power and great level on the route with a time of 1 hour, 42 minutes and 37 seconds, to leave in second and third place to the French Christele Ribault and the German Maike Hausberger, respectively.
In the men's C4 category, Diego Dueñas from Bogotá also made an outstanding performance and took the podium with the bronze medal on the road, after winning the individual time trial on the same day as his compatriot Munévar.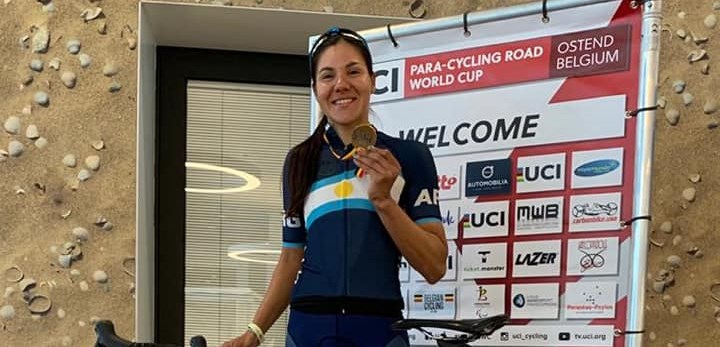 For her part, the Argentine Mariela Delgado was champion in Category C5 with a time of 1 hour 49 minutes and 48 seconds, in a very even race in which five athletes reached the final sprint with a chance to win, but the Argentine imposed her class .
«It was a flat circuit, which helps Mariela, and the sprint always favors her too. Now we have to continue working for the road World Cup and for Tokyo, "analyzed Martín Ferrari, the team's coach, in a talk with Paradeportes. It is worth mentioning that Mariela had achieved sixth place in the individual time trial. In that own category for ladies, the Colombian Paula Ossa occupied the fourth box.
Finally, the coffee pairing of Javier Serna and Marlon Pérez occupied fourth position in the long distance road test, a modality in which the French couple led by Vincent Ter took the victory.