With a total of 26 medals, 15 gold, eight silver and three bronze, Colombia was crowned champion of the Pan American Junior Track Championship, which ended this Sunday at the Asunción Olympic Park velodrome, in Paraguay.
On the final day, Colombia added two golds and three silvers in the keirin and madison events, which were held in both branches. Juliana and Angie Londoño dominated the Madison for ladies with 49 points, escorted by the Chilean couple Javiera Mansilla-Martina Rojas with 23 cards; while the Mexican duo of María Figueroa-Julieta Guerrero was third with 16 units.
In the case of the keirin, the final sprint was won by Nathalia Martínez over her teammate Stefany Cuadrado. For the bronze was the American Divya Verma. The Colombian team had secured the title of the event on Saturday, in which they won gold in the men's sprint, and in the points event, the 500-meter CRI and the individual pursuit in the ladies.
Juliana Londoño from Antioquia established herself as the figure of the Junior Pan American Championship, after reaching her fifth gold medal in the competition this Sunday. She previously had added the titles of scratch, omnium, individual pursuit and team pursuit.
For her part, Stefany Cuadrado was the queen of speed after winning gold in the 500 meter time trial, individual speed and team speed, as well as silver in the keirin.
Argentina also captured the news in the final day with the gold medals for Alejo Betique in the men's keirin and the duo Mateo Duque-Agustín Ferrari in the Madison, also for men. In this way he reached five crowns and consolidated himself as second place in the contest, since he also filed a quintet of silvers and three bronzes.
Colombia widely dominated the contest by getting on the podium in 20 of the 22 events called and reaching the title in 15 of them. Chile took third place in the medal table, with one gold, five silvers and six bronzes.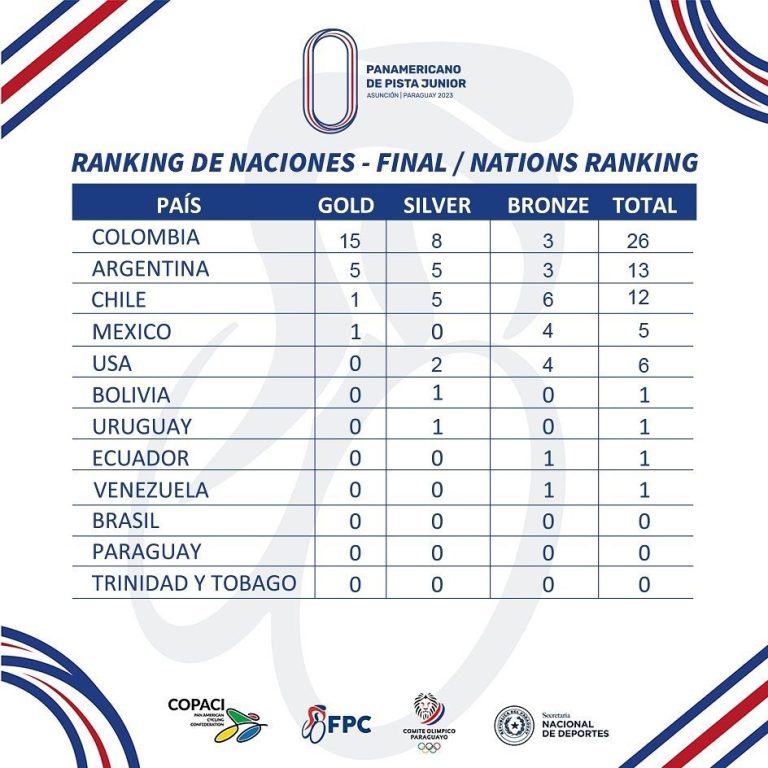 The Colombian press described as spectacular the performance of the national team led by John Jaime González and Andres Torres, who competed on Paraguayan soil thanks to the special support of the Ministry of Sports, the Colombian Olympic Committee and Colombiana.
This Pan American title is a reflection of the great work that has been carried out in the different leagues of the country, and in the different projects implemented thanks to the joint work between the Ministry of Sport and the Colombian Cycling Federation, commented the Mundo Ciclístico Magazine.