As the culmination of the activities for the centenary of the Pan American Cycling Confederation (COPACI), a farewell dinner was held on May 16 in San Juan, Argentina, where the COPACI Order of Merit was awarded for the first time to 12 personalities and defenders of this sport in America.
As agreed by the COPACI Management Committee, based on what is established in the Constitution, it was decided to grant the highest incentive of the entity to personalities who have contributed to the development of cycling in our continent, as well as to federative , leaders and commissioners with a long history of dedication to the discipline, with significant contributions in their work.
The head of COPACI, José Manuel Peláez, began by imposing the Order of Merit on personalities who have long supported the expansion of cycling in America. Among them the President of the UCI, David Lappartient; the governor of San Juan, Sergio Uñac; as well as sports secretary of San Juan, Jorge Chica; and the president of the Sanjuanina Cycling Federation, Juan José Chica.
Then it was the turn of several presidents of National Federations, whose work has been outstanding not only in the organization of events, but also in the correct and growing management of their federations. They were Jorge Mauricio Vargas Carreño (Colombia), Gabriel Ovidio Curuchet (Argentina), José Luis Vazconcellos (Brazil), Jorge Blas Díaz (Dominican Republic) and Trevor Bailey (St. Vincent and the Grenadines).
In the section of leaders, coaches and commissioners, the Canadian Pierre Hutsebaut, the Cuban Pedro Frías and the Argentine Omar Montti were awarded, who have had an outstanding job in their respective positions for more than 40 years of work.
One of the recipients, the Colombian Jorge Mauricio Vargas Carreño, published on his personal page his sincere thanks for having received such high recognition.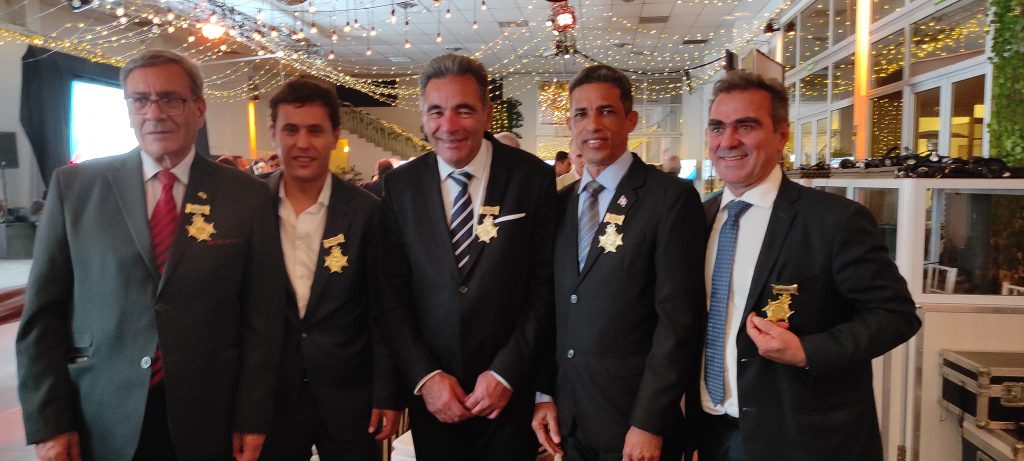 "Sincere thanks to COPACI, its president José Manuel Peláez and other members of the governing committee for the recognition Order of Merit COPÁCI delivered to me, last night in San Juan Argentina within the congress of the Confederation on the occasion of its 100 years of existence, which counted with the presence of the president of the UCI David Lappartient and the governor of the San Juan province Sergio Uñac; distinction that I receive on behalf of Colombian cycling and I share with the entire cycling family of the country that has made our cycling great in the world".
This was the last activity of COPACI in San Juan, Argentina, headquarters of the Pan American Road Championship (12 to 15), of the Annual Congress of the entity (16) and of the delivery of recognitions to countries and personalities as part of its birthday. 100 this year.