Miryam Núñez with a double in time trial and road became the great figure of the Ecuadorian national road championship, held Thursday and Friday, where Leslye Ojeda, Jorge Luis Montenegro, Sebastián Novoa and Alexander Cepeda were also winners.
Núñez, a cyclist for Movistar Team Ecuador, was a huge favorite and managed to revalidate his crown in the test against the clock on Thursday, June 17, after registering a time of 28 minutes and six seconds for the 20-kilometer journey that the ladies traveled.
"It is a new joy of the season and we hope to represent this jersey in the best way in future races in the country," said the Chimboracense, runner-up in the last week of the Tour of Guatemala.
The next day, the current holder of the Vuelta a Colombia 2020 title, also became the national champion of the Ecuadorian route. The podium was complemented by Daniela Jiménez (Team Pichincha) and Nikole Narváez (Team Saitel) who occupied the second and third positions, respectively.
Other results to highlight in the Ecuadorian tournament were Leslye Ojeda of Team Pichincha's gold in the U-23 category of the time trial, with a time of 31 minutes 15 seconds, followed by her partner Dayana Aguilar at 25 seconds.
In the men's elite category, the victory in the chrono was also for the telephone team, thanks to the legs of Jorge Luis Montenegro (50:41 minutes in 40 kilometers); while in the Sub-23 Sebastián Novoa, runner of the Best PC, the position of honor was secured (51:57 minutes).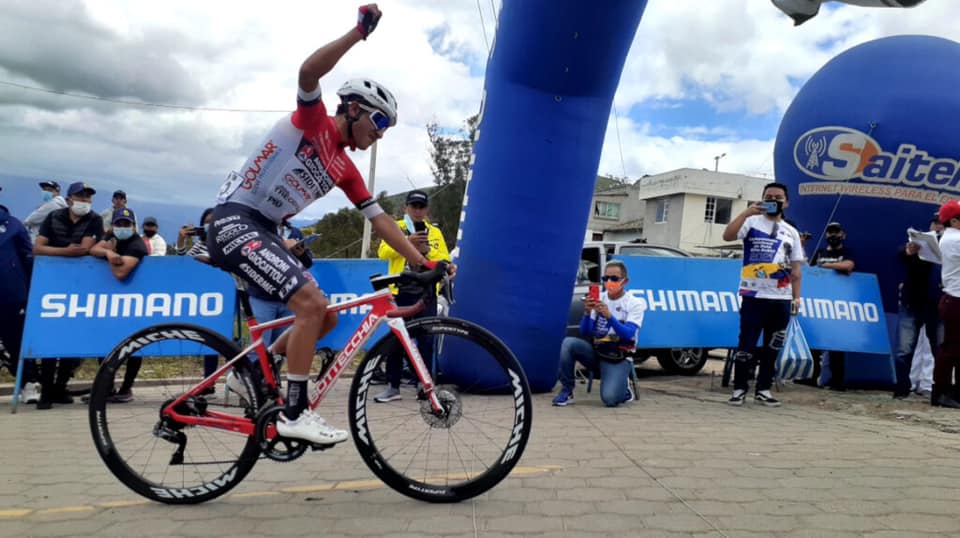 Finally, this Friday the rider of the Androni Giocattoli team, Alexander Cepeda was consecrated National Road Champion in Ecuador after an imposing offensive action in the final ascent to Alto de Aloburo.
The test that was contested on a 150-kilometer route left Cepeda as the winner, who in the last kilometer of climbing managed to detach Byron Guama (Best PC Ecuador) from his wheel, who was second at 20 seconds, while Segundo Navarrete (Movistar Team Ecuador) finished third at 33 seconds.