The Colombian Egan Bernal (Ineos Grenadiers), who more than two months ago suffered a serious traffic accident that could cost him his life, said this Saturday that he dreams of "competing again this year."
Leaning on a cane, Bernal sat down to talk this Saturday with the media and acknowledged that he came to think about "retiring from cycling" after the accident, when "thousands of things went through his head."
"Clearly I thought about it when I was on the stretcher in the ICU, I didn't know if I was going to (re) ride a bike. There was the option that I wouldn't be a professional cyclist again, but it wasn't something that kept me up all night, I just thought I was alive, that he had mobility in his legs and that he could eventually walk again," he added.
Part of the rapid recovery that he has had has been "thanks to the energy that people have sent," explained Bernal, who thanked all the displays of affection and wishes for recovery that have come to him from Colombia and from the world.
The cyclist, champion of the 2021 Giro d'Italia and the 2019 Tour de France, published on his social networks a photograph in which, mounted on a bike, he pedaled without holding the handlebars with his hands and boasted with a message of "look mom, no hands."
the hardest moments
On January 24, near Bogotá, when he was training for the Tour de France, he collided at high speed with a bus on the highway that goes from Bogotá to Tunja, near the municipality of Gachancipá, when the vehicle had stopped, an impact that caused fractures in his right femur and knee, in vertebrae and in eleven ribs, among other injuries.
The cyclist had "almost 20 broken bones" in the accident in which he almost lost his life. After the accident, it was "a difficult moment, one can stay there or go out and turn the page," he said. "I have tried to set an example for my brother and for my mother to be proud of me. In those moments in the ICU, I did not want to see her cry, I told her that we would get ahead," he added.
"When I woke up after the surgery (for the broken femur) they asked me if I felt my legs, if I could move them, move my arms. There I thought it had been serious," Bernal said this Saturday, who in the first moments after the accident he thought he only fractured his femur. Precisely the femur was what hurt him the most, detailed the cyclist, who also pointed to the ribs.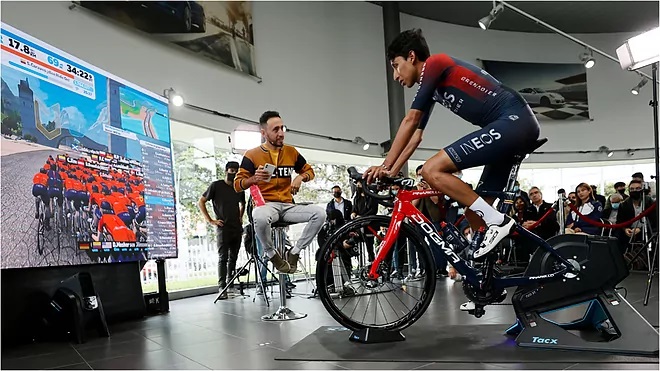 Egan's future
Egan stressed that "I went through the hardest part, which was this time that was really short, but those were the most difficult months. Now I can ride a bicycle and I can lead a practically normal life. And even if a year passes until I compete again, it will be the easy part because I can ride a bike now.
Regarding the future, the runner indicated that "it would be a dream to be able to compete this year", although at the moment he does not dare to give a date because it would be "a little irresponsible" on his part, he asserted.
"Perhaps the Vuelta a España would be too much, (…) it would hit the body very hard, but that will happen over time and it will be the body that decides", he concluded.