Egan Bernal has suffered an accident while training with his team on the roads of Cundinamarca in Colombia, and has had to undergo emergency surgery.
As reported by the local Traffic Police, an Ineos cyclist collided with a bus that was parked while practicing with the time trial bike in the municipality of Gachancipá.
As reported by RCN-Caracol, the cyclist suffered a broken patella and femur, in addition to a pneumothorax as a result of the chest trauma suffered. The Clinic of the University of La Sabana, where the runner is undergoing surgery, issued a statement explaining Bernal's injuries and the subsequent operation.
Ineos also issued a statement confirming the incident and that the cyclist is accompanied by members of the British squad's medical team.
Bernal is doing a pre-season stage in Colombia with some teammates such as Richard Carapaz, Dani Martínez, Jonathan Narváez, Brandon Rivera, Andrey Amador, Ómar Farile or Carlos Rodríguez.
The British team still does not confirm the consequences. "It was a strong blow. The bus was made of fiber and not metal, that has cushioned the blow. We don't know anything, only that he has a strong blow to the leg. The doctor Rafa Santos is with him in the hospital while he The doctors there are observing, but there is nothing confirmed in terms of injuries. Rafa is there and nobody has confirmed his kneecap and femur. I hope he stays little, "said Xabi Zandio to MARCA.
Fraile, Bernal's partner who was training with him, also admitted to this newspaper that they were still waiting for the final report.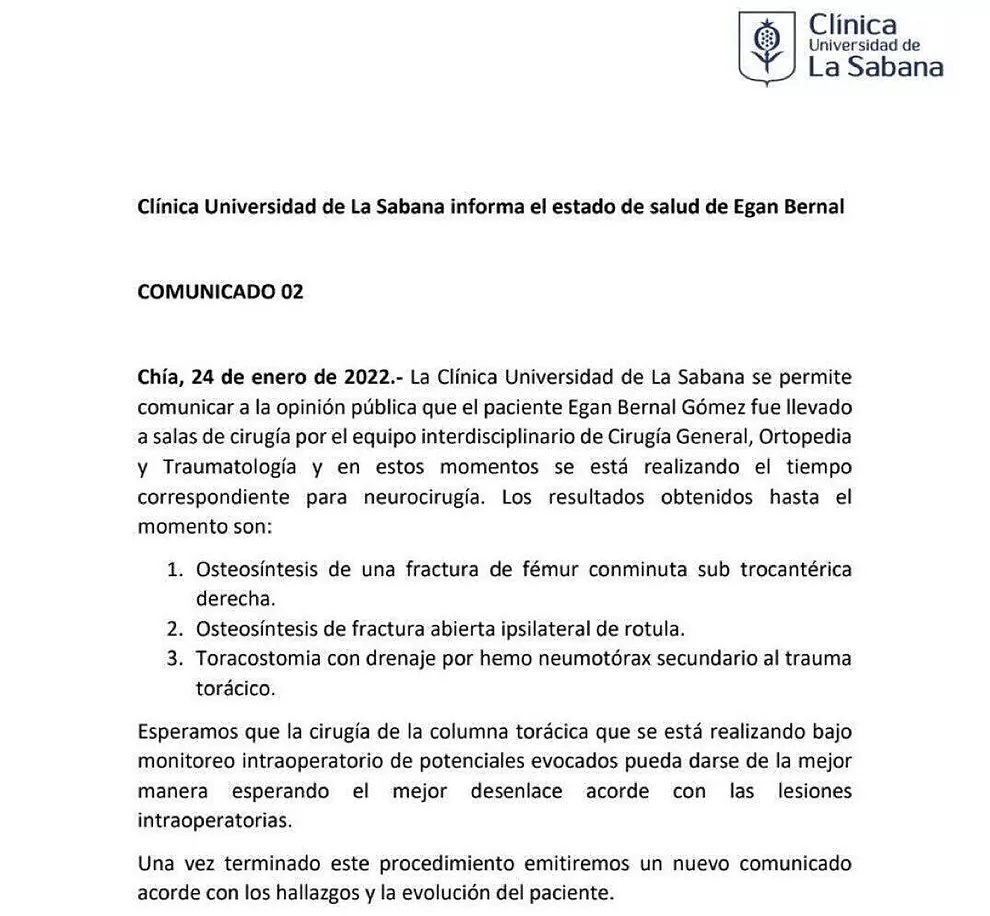 For their part, from Bernal's entourage, such as Xiomara Guerrero or his representative Giuseppe Acquadro, they do not rule out fractures, but they are still waiting for the official part, since it is being evaluated if the double fracture is possible. "It's a possibility," they comment at the door of the Colombian medical center,
A few days ago, the cyclists themselves denounced some imprudence they had suffered while training on Colombian soil. The athletes had a scare with a car and fortunately the thing did not go too far.