The Salvadoran rider, Evelyn García, is ready to participate in the Third Central American Road Championship that will take place in San Salvador, with its inauguration on Thursday, September 2 at 6 in the afternoon in Cuscatlán Park and will end on Sunday 5 in the vicinity of the Multiplaza shopping center.
"Our goal with my coach was to try to get the best possible level to face the Central American Championship. Knowing our physique, the objective was to get closer to the levels of performance of when we prepared the Pan American Games ", expressed the Salvadoran cyclist.
"It is true that seven weeks of specific work is not enough, but this is only one step towards the long-term objectives that we have outlined, such as the Central American Games and the Central American and Caribbean Games," she added.
The Salvadoran rider spent seven weeks in a training base in Medellín, Colombia since Thursday, July 8, with the aim of preparing for the Central American Championship that will begin next Thursday with Evelyn in El Salvador since last Sunday.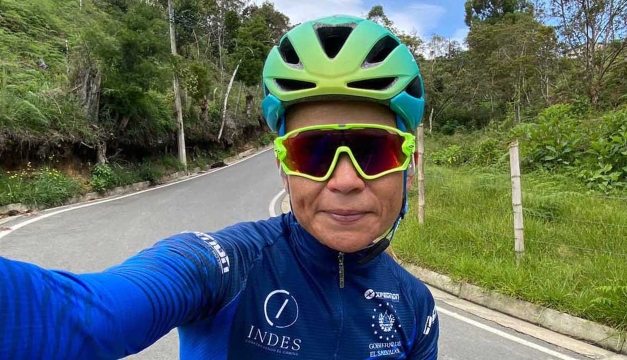 García, an elite category, has had a tough preparation since May where he finished in seventh place in the general classification with a total of 22:02:09 in the mixed category with the "Seven Bikes Team" with the Spanish Javi Visiedo, master category , in the Andalucía Bike Race that was held from the 17th to the 22nd of that month from Jaén to Córdoba, Spain as part of the new marathon circuit of the International Cyclist Union (UCI), UCI MTB Marathon Series.
Then, the national cyclist managed to take the podium between May 29 and 30 of the Magina Bike Vuelta a Jaén, where she reached a time of 2: 25.05 in the first stage that consisted of 38 kilometers and 1,400 meters of unevenness and in the second stage He arrived with a 3:00:28 stopwatch in a race that spanned 46 kilometers and 1,900 meters of positive elevation gain.
Also, Evelyn dominated on June 5 the IV Despeñaperros Bike Race Diputación de Jaén Cup in the elite and absolute category with a time of 3:24:25 in a race composed of 74 kilometers and 2,200 meters of unevenness with a total of 600 runners.
After her participation in the Central American Championship in El Salvador, García will return to Spain to compete in the mountain modality between October and November of the current.