Vibrant duels, the joy that characterizes the public from Cali in the stands, two world records and all the medals distributed between Oceania, Asia and Europe, characterized the start of the UCI Cali 2023 Junior Track Cycling World Championship, this Wednesday , at the Alcides Nieto Patiño Velodrome.
China among the ladies and Germany in the men's section broke the orbital records of the Team Speed, dethroning the figures that the Russian cyclists had set.
The Orientals clocked 48.997 seconds, leaving behind the 49.217 of Cairo in Egypt on September 1 last year. For their part, the Teutons achieved 43,789, above the 44,209 that had been maintained since August 23, 2017.
Similarly, Colombia surpassed the national record for the Men's Team Pursuit, which was 4,19,817 since the Junior Pan American Games in Cali, and the record for the Cali velodrome, reaching 4,10,951 minutes. The national quartet was made up of Lenin Pareja, Nicolás Olivera, Erick Parra and Cristian Vélez, directed by John Jaime González.
Regarding the medals, the first gold of the contest was obtained by Australia in the women's Scratch through Nicole Duncan, while the Italian Anita Baima obtained the silver and the Belgian Laerke Expeels hung the bronze.
"It is my first medal and the first time in Cali, it has received me very well, it is a very warm city that I like a lot. I still haven't assimilated this victory, it's an indescribable feeling and I'm going for more in this World Cup", said Duncan.
The women's team sprint left China with the gold medal, followed by Germany with the silver medal, while Italy took bronze after defeating Colombia in the series.
Germany, on the other hand, got in the way of the Chinese and claimed the gold medal in the men's team sprint, while Belgium took the bronze after beating Colombia by 65 hundredths.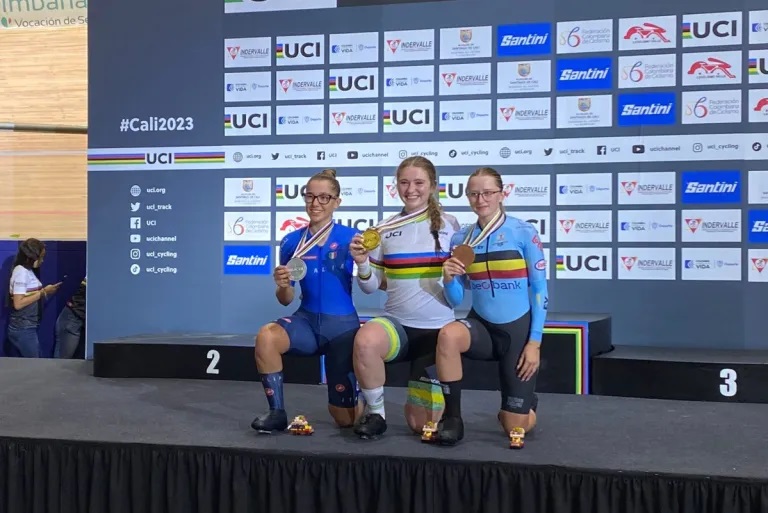 The orbital competition had a break after 6:50 p.m. to comply with a short but sober official opening ceremony, in which the Cali stage was filled with lights to welcome the competitors from 46 countries.
On the other hand, Italy is the great favorite to keep the two medals of the Team Pursuit, after completing the qualifying rounds.
In men, the Italian team, current holder of the world record in the category, achieved a time of 3.58.532, very distant from Germany's 4.06.102 and New Zealand's 4.08.375.
Juan David Sierra, son of a Colombian father, who has shown important leadership, stands out with the Italian team.
For their part, in ladies they achieved 4.28;406, followed by Australia (4.30.635) and Germany (4.32.218), awaiting the definition of the medals. Colombia placed its two representatives in the next round and expects to surprise. The tricolor ladies were fourth in the rankings and the men entered with the seventh best record.
Classified to the following instance:
Women's Team Pursuit
Italy (4.28.406)
Australia (4.30.635)
Germany (4,32,218)
Columbia (4,34,048)
Canada (4.09.598)
Canada (4.09.598)
Switzerland (4.10.858)
Spain (4.14.120)
Men's team pursuit
Italy (3,58,532)
Germany (4.06.102)
New Zealand (4.08.375)
Poland (4.08.623)
Canada (4.09.598)
Switzerland (4.10.858)
Colombia (4.10.951)
Spain (4.14.120)
Final results Wednesday August 23
scratch checkers:
Gold: Nicole Duncan (Australia)
Silver: Anita Baima (Italy)
Bronze: Laerke Expeels (Belgium)
Speed Men's Teams:
Gold: Germany (44,256)
Silver: China (44,520)
Bronze: Belgium (45,351)
Fourth: Colombia (45,416)
Women's Team Speed:
Gold: China (49,360)
Silver: Germany (50,290)
Bronze: Italy (50,033)
Fourth: Colombia (51,170)
Source: With World Junior Track Press Information Cali 2023