Governor Sergio Uñac toured the facilities of the "Vicente Chancay" velodrome, headquarters of the Pan-American Track Cycling Championship, scheduled for the province of San Juan, Argentina, from June 14 to 18, with the presence of more than 25 nations and 200 riders.
During the march and prior to the start of the Pan American, the cyclists Nicolás Tivani, Maribel Aguirre, Ariel Capdevilla, Ariel Ramos and Rodrigo Díaz, made a demonstration lap, as well as a tour of the velodrome facilities.
Within this framework, Governor Uñac praised the magnitude of the work, noting that "this is a dream that allows San Juan to be transported into the future. Here is the UCI, here is the development of American cycling, because the UCI trusts in the province of San Juan, in this work team and we are going to ensure that all the development of American cycling is generated from the province of San Juan".
During the tour he was accompanied by the Secretary of State and Sports, Jorge Chica; the Minister of Public Works and Services, Julio Ortiz Andino; the president of the San Juan Cycling Federation, Juan José Chica, together with the presidents of each of the clubs; the director of Sports and in charge of cycling at the provincial level, Juan José Páez; the Undersecretaries of Architecture, Oscar Montero; of Maintenance and Operation, Rubén Manes and the director of Operational Control, Cristian Morales.
For her part, Chica announced that the inauguration of the velodrome will be in October, while next Wednesday, June 14, the Pan American Cycling Championship will begin there, in which the province of San Juan will have 6 representatives as part of the Argentine team.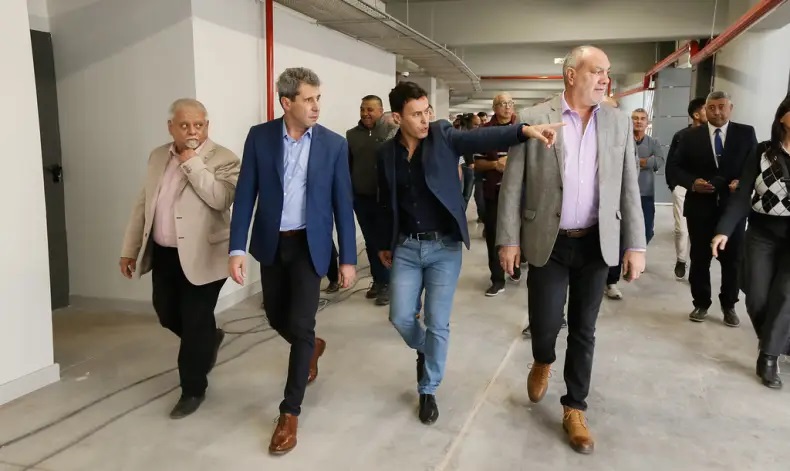 Regarding the acquisition of tickets, Chica reported that from Saturday the 10th and Monday the 12th they can be purchased at the same velodrome, with a value ranging from $300 to $600 per day, "an extremely reasonable price, thought so that all San Juan residents can enjoy the activity in this multi-space stadium. They will also have the possibility of accessing artistic gymnastics training, among other sports".
"Here will be the most important development center in America, because the UCI designated the province as the second satellite center, among nine velodromes on the continent. This will be a retraining of the best technicians in bike repair shops, in judges, in coaching and training for technicians from all over America," he continued.
To close, the official stressed that "we have the best track. These are points that will allow us to get approximately 2 million dollars per year to this development center for its maintenance."
Source: https://sisanjuan.gob.ar