HAVANA. Bermudian cyclists Kaden Hopkins and Caitlin Conyers, were crowned on Saturday as the first holders of the Caribbean Road Championship, which opened its competitive activities in the Havana Malecon, in the presence of the president of the International Cycling Union, David Lappartient, and his counterpart in the Americas, José Manuel Peláez.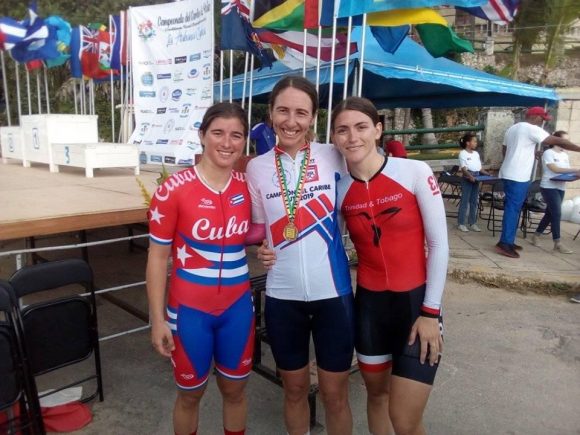 Hopkins traveled the 33.6 kilometers of the circuit in 45 minutes, 16 seconds and 629 thousandths, to outdo Puerto Rican Abner Gonzalez and Anguilla's representative, Hasani Hennis, his teammates on the awards podium.
For his part, Caitlin Conyers timed 00: 33: 48.202 minutes, in the 22.4 kilometers of the route, enough to make better time than his two closest escorts, the Cuban Heydy Pradera and the well-known Trinidadian Alexi Costa, silver medalists and bronze, in that order.
This Sunday, from 8:30 in the morning, the 67.2-kilometer route for women will begin, and at 11, the 123.2-kilometer route for men, in a UCI Class 1.2 competition that will award individual scores for The continental ladder. (Copaci Press)
MALE ELITE TIME TRIAL (34.2 KM).
1. Kaden Hopkins (BERMUDAS U23) 00:45:16.629 GOLD
2. Abner Gonzalez (PUERTO RICO U23) 00:45:57.311 SILVER
3. Hasani Hennis (ANGUILA ELITE) 00:47:03.156 BRONZE
4. German Rafael (REP. DOMINICANA ELITE) 00:47:13.643
5. Pedro Portuondo (CUBA ELITE) 00:47:21.729
6. Joshua Kelly (BARBADOS ELITE) 00:47:32.356
7. Damien Laversanne (GUYANA ELITE) 00:47:38.112
8. Emilio Perez (CUBA ELITE) 00:47:54.565
9. Alger Kylian (MARTINICA U23) 00:48:00.864
10. Conor White (BERMUDAS U23) 00:48:10.787
11. Tyler Cole (TRINIDAD Y TOBAGO U23) 00:48:33.991
12. Oscar Quiroz (BCELI ELITE) 00:48:49.373
13. Giovanni Lovell (BELICE ELITE) 00:48:54.279
14. Gene Allan (GUADALUPE U23) 00:48:59.087
15. Polanco Steven (REP. DOMINICANA U23) 00:49:03.234
16. Lorin Sawyer (BAHAMAS ELITE) 00:49:06.898
17. Odvelt Clerge (HAITÍ U23) 00:51:18.661
18. Marsh Robert (ANTIGUA ELITE) 00:51:20.057
19. González Ruson (ARUBA U23) 00:51:27.558
20. Claude Richardson (ANGUILA ELITE) 00:52:32.386
21. Kluivert Mitchel (SANTA LUCIA ELITE) 00:52:58.237
22. Brandon Baker (JAMAICA U23) 00:54:46.727
23. Bishop Tyrone (ISLAS TURCAS Y CAICOS ELITE) 00:56:39.288
24. Janssen Max (CURAZAO ELITE) 00:56:55.570
25. Gardiner Omard (ISLAS TURCAS Y CAICOS ELITE) 01:00:39.724
Jacob Kelly (BARBADOS ELITE) DNF
Lutin Larry (GUADALUPE ELITE) DNS
Locaton Cedric (GUADALUPE ELITE) DNS
TIME TRIAL ELITE FEMALE (22.8 KM).
1. Caitlin Conyers (BERMUDAS ELITE) 00:33:48.202 ORO
2. Heydi Pradera (CUBA U23) 00:35:11.266 PLATA
3. Alexi Costa (TRINIDAD Y TOBAGO ELITE) 00:35:21.741 BRONCE
5. Iraida Garcia (CUBA ELITE) 00:36:02.753
6. Laura Gueppois (GUADALUPE ELITE) 00:36:23.748
7. Kaya Cattouse (BELICE ELITE) 00:36:42.467
8. Alicia Thompson (BELICE ELITE) 00:38:43.118
9. Donelys Carino (PUERTO RICO ELITE) 00:39:20.030
10. Hegedus Gabriella (ISLAS TURCAS Y CAICOS ELITE) 00:43:14.064
11. Antoniece Simmons (BAHAMAS ELITE) 00:46:47.991
Alexandrine Melissa (MARTINICA ELITE) DNS
Georges Ousline (HAITI U23) DSQ