The Costa Rican Kennett Tencio and the Colombian Queensaray Villegas gave a luxurious day this Sunday and became continental monarchs of BMX Freestyle, after winning the Pan-American championship at the Playas Costa Verde circuit, in Lima Peru.
The attic was a show, both in the semifinals and in his last outing on the ramps. He totaled 85.83 on his first round and a monstrous 92 for the winning round, scores that no rival came close to.
Tencio made an almost perfect second round. He knew what he had accomplished, so when time was up, he threw his bike and celebrated in style, raising his hands first to his face and then raising them to the sky.
The second position went to the Argentine José Augusto Antonio Torres with 86.00 points in the decisive round, while the bronze was in the hands of Julio Camacho of Ecuador with 83.00 point, who narrowly surpassed the American star Nicholas Bruce (82.90) .
This scenario brought back many memories for the Costa Rican Tencio, since two years ago at the Pan American Games in Lima 2019 he was left with a fifth place, a result that left a bad taste in his mouth.
"I wanted to test myself and see what I could improve on that circuit. And so I got it. I am very happy because I removed my thorn. I was very motivated to win, "the rider told the media after receiving his gold medal.
A young Colombian full of talent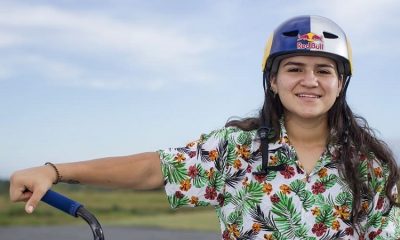 The female stubbornness found a strong fight between at least four cyclists, the twins Queensaray and Lizsurley Villegas, the Venezuelan Katherine Díaz and the Chilean Macarena Pérez, from which a podium emerged with that difference in the score.
Queensaray wore 65 units in the first round and was enough for the gold, while Katherine with 63.50 won silver, while Macarena with a last round that earned her 62.50 dethroned the favorite of many, Lizsurley, from the third seat. the number one in her country and was the winner of the World Series of urban sports in Madrid, Spain, this very 2021.
This championship had the participation of more than 60 athletes from 11 countries, who disputed the medals and titles of Pan American Champion, in the Costa Verde beach circuit, in the San Miguel district, which has UCI (Union Cycliste Internationale) regulations.