The second day of the Track Cycling World Championship in France was framed for America, with the bronze of young Colombian Kevin Quintero in the keirin test, one of the most spectacular cycling programs in the world's velodromes.
The South American track player was covered in glory by obtaining the bronze medal, managing to maintain the prestige of Colombian cycling achieved in more than 50 years of history on the planet's tracks.
The Valle del Cauca cyclist masterfully won the three series that he had to run before reaching the final, ratifying his category as one of the best exponents in recent years of the difficult modality, invented by the Japanese a little more than 40 years ago.
Despite his youth, Quintero already enjoys a great deal of experience thanks to the training received and direction and guidance by the national coach Jhon Jaime González and the opportunity he has had to run permanently abroad, with winners in world championships and the Olympic Games. .
Last year he was in Tokyo and although he did not manage to get on the podium, he did accumulate a background that has allowed him to make an ascending career by virtue of his natural talent and personality according to the test in which he has shone the most. .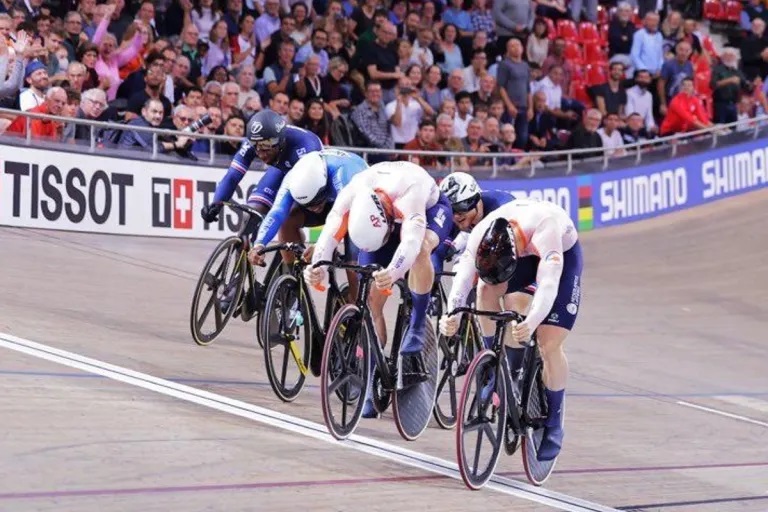 On the other hand, Martha Bayona in the pure speed test, qualified with the fourth time in the 200 meters thrown, accessing the round of 16, but in her first confrontation with the Dutch Laurine van Riessen she lost and could not continue in the race. , so he hopes to shine in the competition of his choice, the Keirin and the 500 meters time trial,
Meanwhile, Santiago Ramírez in the Keirin complied within his possibilities, by not passing the first series, passing in the playoffs to the round of 16 with Quintero, but in this chapter he did not manage to advance to the next round, also waiting to compete with success in the tests that await you.
Other Results – Second day of racing in Saint-Quentin:
Ladies Elimination Test
🥇Lotte Kopecky (BELGIUM)
Men's Team Pursuit
🥇Great Britain
Keirin Males
🥇Harrie Lavreysen (NETHERLANDS)
Fuente: Revista Mundo Ciclístico