The Colombian cyclists were once again the protagonists of the Joe Martin Stage Race, when in the second stage the sprinter from Tuluña Bryan Gómez (Miami Nights) and the Boyacá native Miguel Ángel 'Supermán' López (Team Medellín-EPM) escorted the American Riley to the podium Sheehan in the second stage of the race, belonging to the UCI America Tour.
In the definition, the northern runner of the Denver Disruptors was the fastest in a reduced sprint, where the Colombians had to settle for second and third place, which leaves 'Supermán' in the third drawer of the individual overall podium as well.
The escape of the day was encouraged by the Canadian rider Allan Schroeder (CS Velo Racing), who escaped in the first half of the route, however, arriving at the ascents, the group of favorites gave chase, passing him by.
At the finish, the Canadian Alexander Cowan (L39ION of Los Angeles) tried to surprise, but Team Medellín-EPM was very attentive in the peloton to control and neutralize the break in the final kilometers.
This Saturday, the American round will continue with the third stage, a day against the clock that will have a 4.8-kilometre route around Devil's Den State Park. The successor to Australian Jonathan Clarke, champion of the last edition in 2022, will be known on Sunday in Arkansas.
Lauren Stephens takes the solo victory of the second stage and leads the general
American Lauren Stephens (EF Education-TIBCO-SVB) pulled away from her fellow breakaways on the final climb and won the second pro women's stage atop Mount Sequoyah in the Walmart Joe Martin Stage Race.
Emily Ehrlich (Virginia's Blue Ridge-Twenty24) sped up and passed Emilie Fortin (Cynisca Cycling) just before the finish banner to take second as both riders finished 37 seconds behind Stephens.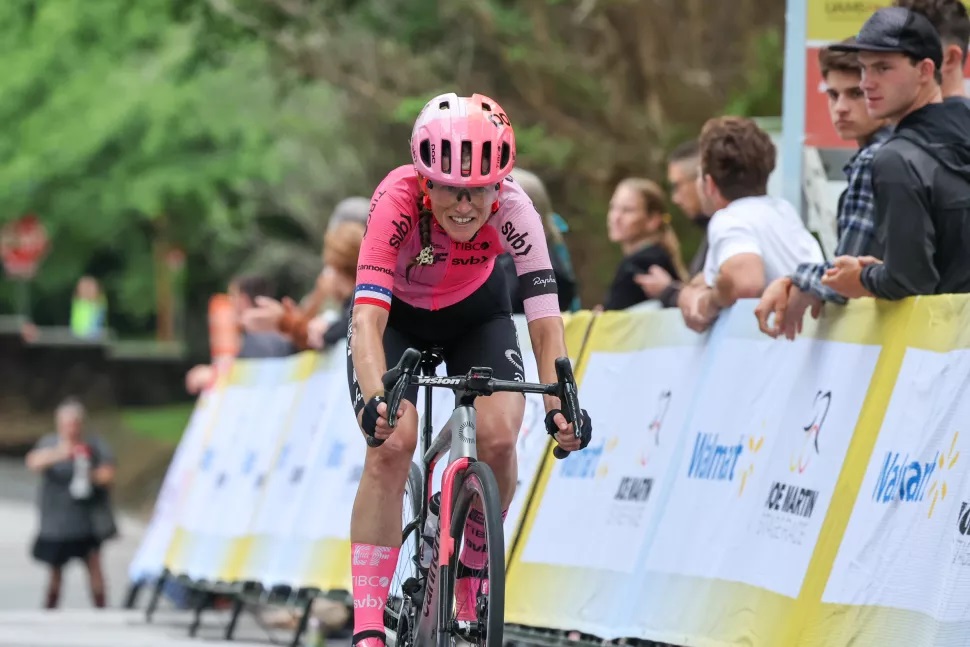 "The whole team was there helping. You know, I had Noah, I had Juan, Sergio, Sergei, they were all there," Stephens said later. "We had everyone lined up to help, you know, surfing the wheels and just before we got there at the right time. And then on the climb, I felt really good. I just hit that 450m wall. In the final I just surfed. the wheels and 200 to go, and I didn't look back."
Stage one winner Skylar Schneider (Los Angeles L39ion) finished a small group of riders in ninth, 3:02 behind Stephens, and lost the leader's pink jersey to the EF Education rider.
The second stage at the Joe Martin Stage Race offered the women's peloton a 66.5-mile (107.1 km) race from Walker Park in Fayetteville, and then back to the city limits for the traditional steep climb of Mount Sequoyah.