There is always a first time and that was demonstrated by the Venezuelan Lilibeth Chacón, when she won for her country the first title in the history of the time trial of the Pan American Road Championships, when the continental competition began this May 12 in San Juan, Argentina. that greets the centenary of the Pan American Cycling Confederation (COPACI).
The 30-year-old cyclist (completed on March 1) traveled the Ullum – Punta Negra Dam section, 18.8 kilometers in 27:28.42 minutes and left Colombian Lina Marcela Hernández (27:59.35) for second place, who Halfway through the route she had the seventh fastest time, but finally she won silver, beating Argentinian Antonella Lilia Leornardi (28:14.76), bronze after leading the race until the ninth kilometer.
Despite having a good pace until the middle of the course, the defending champion, the Cuban Marlies Mejías, could not get past 12th place, in a competition where 18 runners from 13 nations finally took the elongated race.
At the end of the test, these were the statements of the three medalists to the local press that covers this event, whose first day was dedicated to time trials.
Lilibeth Del Carmen Chacón (Venezuela): "Very happy, grateful to God and my work with the coach. I had already experienced the route of the circuit in 2018, where I had finished in fourth place and today we are in first place, which is the fruit of all this work. The mountains are my favorite terrain, but I have prepared myself for a good performance in the time trial, since a race is not defined in a single stage", said the new Pan American time trial champion.
Lina Marcela Hernández (Colombia): "This second place is quite representative for me, since we prepared ourselves in a great way to obtain a great result. This is my first year in the Elite category and I was psyched up to be able to make a podium. I have been preparing for this race since last year, when I managed to become the Pan American champion in Sub 23. Regarding the track, it was quite nice, also hard, with a 1.2 kilometer climb that gave the competition a higher level. Now to prepare for the online race with my colleagues from Colombia", said the Colombian runner-up.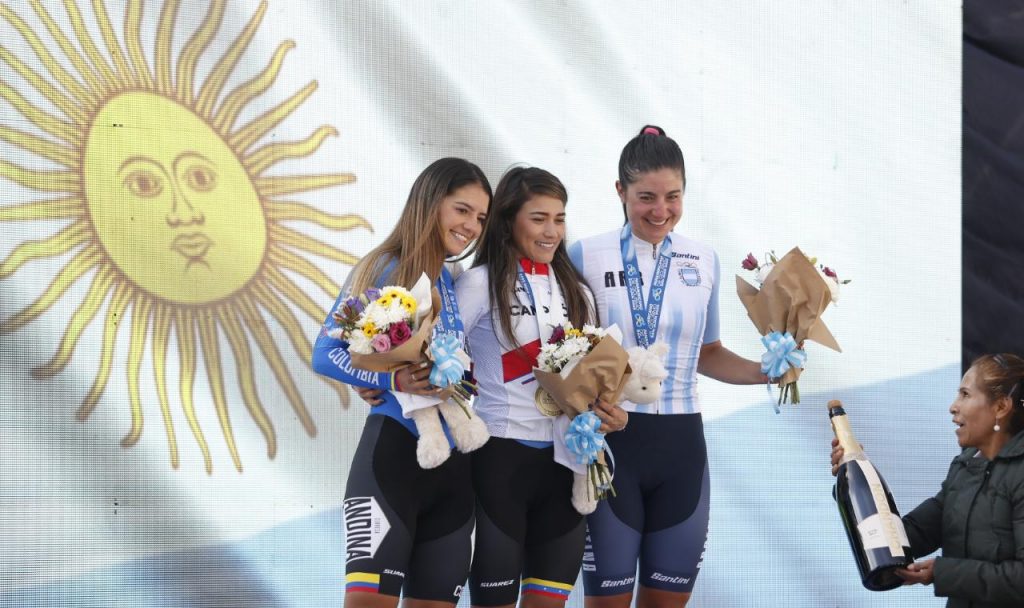 Antonella Lilia Leonardi (Argentina): "Living with emotion, joy and tears too, because the meaning of this podium is gigantic; a great prize for the sacrifice that we have been making for years, that is why happiness. This is my first Pan American road trip and my first Pan American podium".
Many of these women will face the Pan-American route next Sunday, in which the Cuban Arlenis Sierra, who rides professionally for the Movistar team and has just won the Vuelta a Andalucía, is the favorite.