Out of habit it is still applauded and news. Colombian Mariana Pajón shone again at the top of the podium, winning the third stop of the UCI BMX Supercross World Cup, which takes place on the El Salitre Park track, with the support of the Ministry of Sports and the main government authorities. from Bogota.
The double Olympic champion, who was returning from an injury, won with great sovereignty on the capital track that she knows by heart and in which she has been applauded and cheered on countless occasions, considering it as the home of the Colombian BMX Team.
To win, Mariana dominated the qualifying series against the American Ashley Verhagen and the Brazilian Priscilla Stevaux, to advance to the semifinal, along with her compatriot Andrea Escobar, while another local, Gabriela Bolle, suffered a fall, but then fell qualified in the repechage round.
Already in the semifinal, Mariana returned to dominate her series to advance with the best time to the final, along with the champion of the Central American Games in Barranquilla 2018, Gabriela Bolle.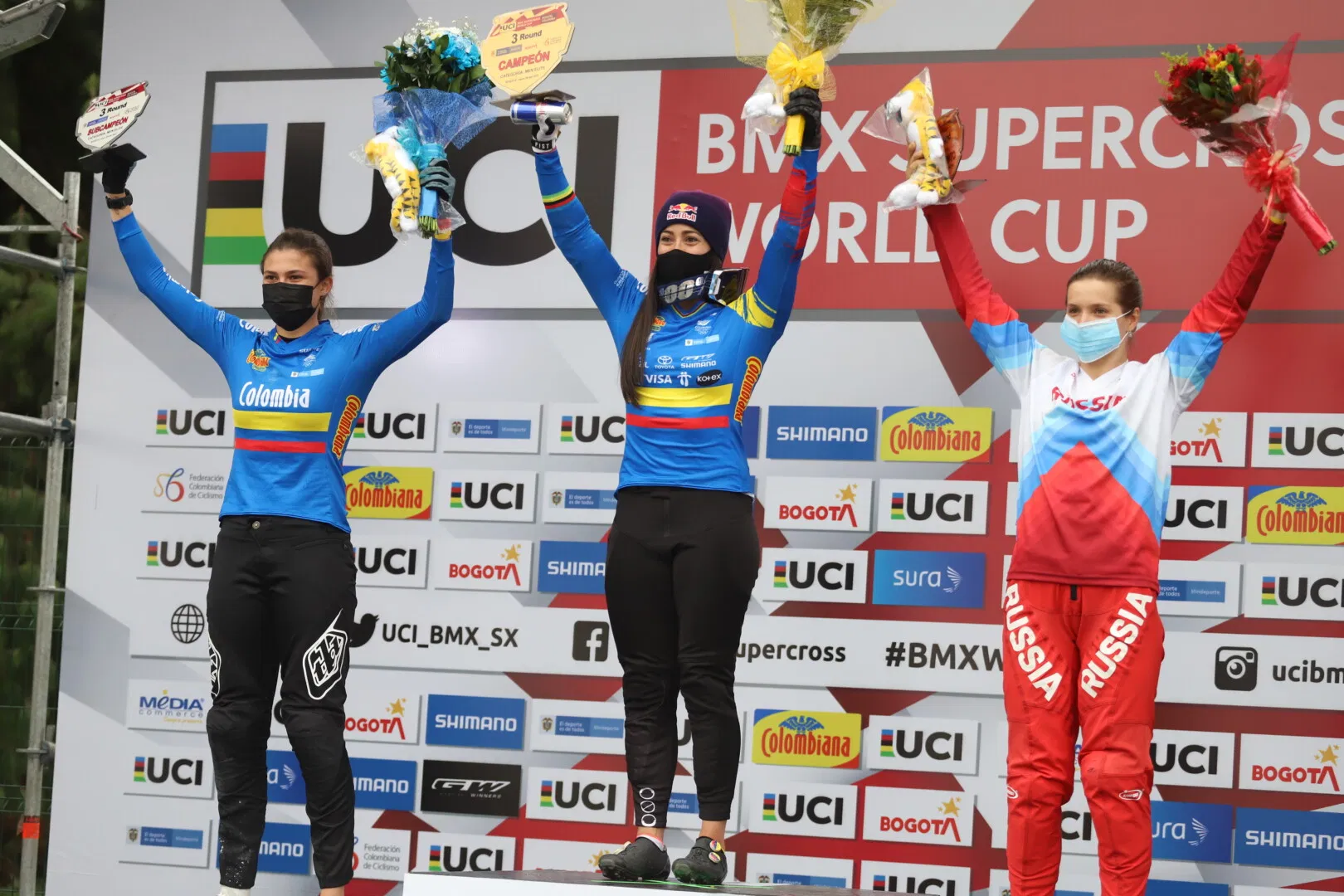 In the fight for the podium places, the Antioquia woman was again superior and crossed the finish line with a time of 36,474 seconds, followed by her teammate, Gabriela Bolle and the Russian Natalia Afremova.
For his part, in the elite men's category, Frenchman Joris Daudet, three-time world champion, dominated the event as expected. Olympic bronze, Carlos Ramírez qualified from the first round in second place in his series to advance to the round of 16, as well as other Colombians such as Diego Arboleda, Vincent Pelluard, Juan Camilo Ramírez and Juan Esteban Naranjo. In the quarterfinals,
Pelluard and Arboleda won their series, while Carlos Ramírez and Juan Camilo Ramírez qualified second and fourth, respectively. For the final, Pelluard was fifth and Ramírez was seventh. In addition to the French gold Daudet, the Swiss Cedric Butti won the silver and the Latvian Helvijs Babris the bronze.
In the men's U23 category, 16 Colombians reached the quarterfinals, of whom nine qualified for the semifinals, with Samuel Zapata and Juan Pablo Chaparro winning their respective series. Zapata and Daniel Castro advanced to the final, who in the final placed third, behind the Japanese Asuma Nakai and the Ecuadorian Cristian Castro.
In the women's U23, six Colombians were installed in the final: Sofía Cadavid, María Camila Restrepo, Natalia Parra, Sofía Díaz, Valentina Muñoz and Nicol Martínez, with victory for the Swiss Thalya Burford, second place for the Colombian María Camila Restrepo and bronze for Natalia Parra, also from Colombia. In this way,
Colombia closed this third phase of the World Cup with a gold, a silver and a bronze. The fourth and closing of the road to the Olympic Games will take place this Sunday on the track of the Parque Recreodeportivo El Salitre in Bogotá.