Colombian bikers were once again protagonists in the second round of the Latin American BMX Cup that took place in Guayaquil. Mariana Pajón once again showed all her class to win the three rounds of the event with flying colors and win the gold medal.
In the elite category, the Colombian triple Olympic medalist did not disappoint and showing all her class, she took victory in rounds 1 and 2 of the Latin American Championship, which took place this Saturday, March 5 and Sunday, March 6.
Mariana Pajón, after her victory, spoke about her Podium Mission project, which was created based on her personal experience and through which a series of talks and conventions will be held to leave a positive message.
She was happy for her first visit to Guayaquil together with new athletes from her country who are motivated to win and who are part of the Colombian team in the international tournament.
The Olympic medalist and 18-time world champion was grateful for the welcome she and her husband, Vicent Pelluard, have received since they arrived in Guayaquil. Regarding her sports calendar, Pajón pointed out: "This year I am going to take it very easy, the truth is, it is a year to download".
She noted that she has her sights set on the first World Cup in Glasgow, but she prefers to go race by race. "The experience was very good, it is the first time that I come to Guayaquil and I am very happy. I'm just starting a preseason. It was a perfect score, some very good points and a very good experience", said Pajón in statements collected by the Ecuadorian Cycling Federation.
Colombia concluded its participation in the Championship category with a total of 11 medals (5 gold, 4 silver and 2 bronze). The Francisco Jiménez Buendía complex was the setting for this important Latin American event that featured representatives from countries such as: Ecuador, Brazil, Colombia, Chile and Peru.
Other results
In the challenger race there was an outstanding participation of Ecuadorian runners, who reached the title, such as Migbelis Pretel Tuquerez, winner in the 5-7 year old series; Ana Paula López, winner in the 8; Grazzia Ochoa, in the 9; Antonella Puyo, who was the winner in the 10-year-old division; Lia Scheccid Loaiza, in the 11; María Cristina Rodas, in the 12; Scarlet Escobar, who prevailed in the 15-year-old series; Danna Yépez, winner of the 16-year-old category; and Lady Bucheli, at 17.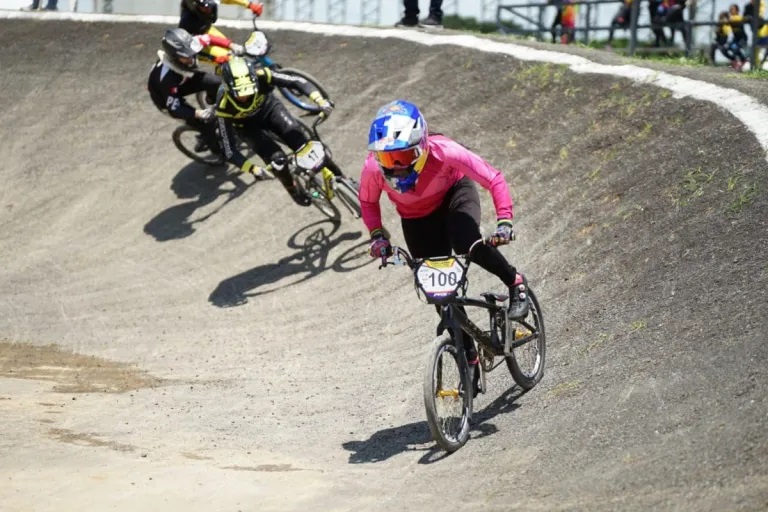 Colombian Josseline Valentina Mueses won the gold medal in the 15-year-old category, after placing first in the three heats of her series; while Rafaela Anahi Roldán, from Ecuador, finished second.
For its part, in the championship round the participation of Ecuadorian athletes recognized in their categories was observed. Among them, Doménica Mora, who won first place in the juniors, finishing first in the three heats of her division.
Sofía Mayerly Díaz, from Colombia, finished in second place; while Valentina Vergara, from Chile, won the bronze medal. (D)
SECOND ROUND RESULTS – CHAMPIONSHIP
Junior Category Men
🥇 Luis Ullauri Ecuador
🥈 Brayanht Felipe Quimbayo Colombia
🥉 Benjamin Riveros Chile
Under-23 category Men
🥇 Mauricio Molina Chile
🥈 Joshua Alvarez Ecuador
🥉 Daniel Castro Colombia
Elite Category Men
🥇 Vincent Pelluard Colombia
🥈 Franklin Vasconcelos Brazil
🥉 Bruno Andrade Brazil
Junior Category Ladies
🥇 Sofia Diaz Colombia
🥈 Domenica Mora Ecuador
🥉 Lilian Burbano Ecuador
Elite Category Ladies
🥇 Mariana Pajon Colombia
🥈 Laura Ordonez Colombia
🥉 Karla Carrera Ecuador