The second stage of the Tour of Ecuador was won by the American cyclist Matt Govero, from the VIE 13 Factory Team, in a day that left the Ecuadorian Lenin Montenegro as the new absolute leader in the general classification with little difference over his closest rival.
In 5 hours and 40 minutes, Govero completed the 226 km route, between Salinas and Manta, in what was registered as the longest of the eight stages that the competition has. The second and third places were occupied by the Ecuadorians Montenegro and Segundo Navarrete, both from the Movistar Team.
With these results, the yellow leader's shirt will now be worn by Montenegro, who also continues as the best under 23 in the competition.
This Thursday's course had four flying goals and two category 2 mountain awards. The flying goals were won by Sebastian Novoa (Best PC); Stalin Puentestar (Saitel), the second and third, and David Caicedo (Eagle Bikes).
Throughout the tour, Puentestar, Caicedo and Novoa, especially, stood out by commanding the escape and fighting in the partial prizes. In the case of the first, he was awarded the mountain prizes placed in dispute.
It was already in the fourth flying goal, especially, when Matt Govero got into the group, Govero joined, along with Montenegro and Navarrete, to end the escape and fight the stage.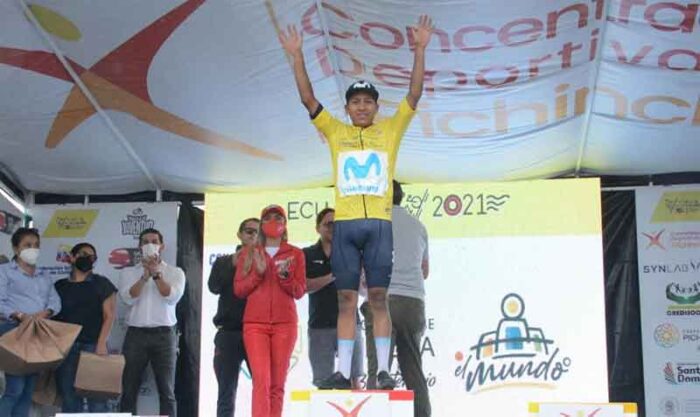 With the results of this December 9, Sebastián Novoa is the leader of the flying goals; Stalin Puentestar as leader of the mountain awards and David Caicedo, as leader of combativeness.
The day also showed the landscapes of the so-called Spondylus route. The platoon passed through Santa Elena, Jambelí, Pueblo Nuevo, Montañita, Olón, Las Tunas, Salango, Puerto López, Machalilla, Puerto Cayo, San Lorenzo, El Aromo and Manta.
This Friday, December 10, the third stage of the Tour of Ecuador will be run. It will be a 191 km journey for cyclists. The platoon will leave from Montecristi, in Manabí, and will arrive in Quevedo, in Los Ríos. The departure time is 10:00. There will be three flying goals in dispute and two mountain prizes.
Editorial Elcomercio.com (D)