A total of 651 runners from Mexico, Ecuador, Venezuela and Colombia participated in the I Mezuena Egan Bernal Cup, held this weekend at the Zipaquirá Salt Cathedral Mountain Bike track, which awarded UCI points to Junior runners, who now they will have a better position in the world rankings.
The winners of the Junior UCI category among the females were Salomé Cortés, followed by Sahara García and Sahara Quintero, while in the male category Hugo Andrés Rodríguez did it, escorted by Diego Antonio and Alex Pabón, all of Colombian nationality.
The first leg was animated by the push bikes and by the youngest girls and boys of the event, who stole the show and made an ascent between colored pennants and sponsors' fences through the starting area of ​​the XCO track in Catedral of salt.
Then came the pre-infant, junior, recreational, university categories, all the girls, the masters, elites and finally the Junior UCI, all of these in the three spectacular tracks presented by the organization with the support of the Zipaquirá Institute of Culture, Recreation and Sports. and under the work and supervision of the Tacky Builders.
The Mezuena Egan Bernal Cup and its sponsors offered award products for the top three in each category and medals for the top five in each category. All the girls and boys from the first heat took home participation medals.
The international Commissioner Erica Marín was satisfied with the great work carried out by the organizing committee of the Mezuena Foundation for the correct realization of the event, taking into account every little detail, especially in the demands of the International Cycling Union.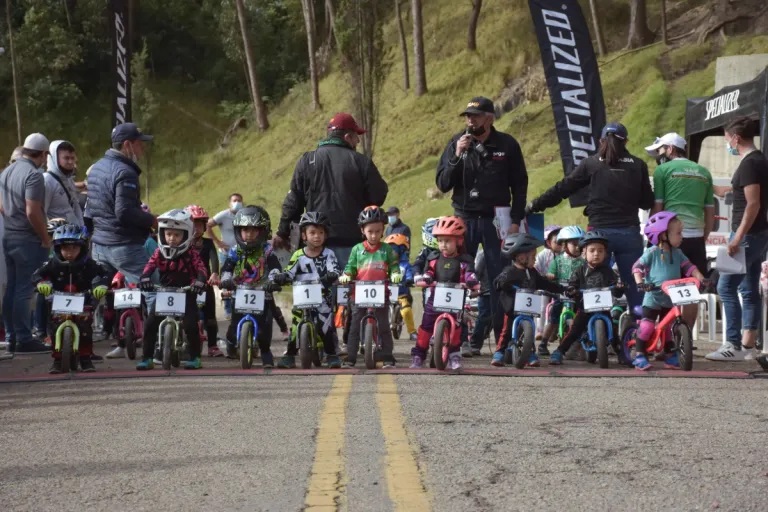 The Copa Mezuena Egan Bernal presented a monumental assembly, worthy of a great international event of the first level. Several well-known athletes also gave their opinions of the event.
"Very happy to have been able to be and participate in this great international event, the truth is that seeing so many girls and boys is very nice, a great satisfaction to be their idol and to be present sharing and setting an example. Congratulations to the Mezuena Foundation for the impressive organization, they deserve special recognition because we know that it is not easy to carry out these projects in Colombia. Thank you to all the sponsors for believing in our events and to everyone who attended", said Camilo Gómez.
"Special thanks to all the participants and attendees of the first valid in Zipaquirá, we are waiting for you in the second valid on June 5 at the Bike Park Castillo Marroquín in Chía. Thanks to all our sponsors for making this event a reality", said the Mezuena Foundation.
Mezuena Foundation Press