Richard Huera, 22 years old and from Team Banco Guayaquil, was the winner of the National Road Championship held in Quito, this Sunday, February 20, 2022, by beating none other than the Tokyo 2020 Olympic champion, Richard Carapaz, second place, and the consecrated Jonathan Caicedo.
Huera, from Sucumbíos, prevailed in a close final against Carchenses Carapaz (Ineos Grenadiers) and Caicedo (EF Education-EasyPost). The finish line was located behind the Atahualpa Olympic Stadium, on a steep climb that put the athletes to the test. "This victory gives me a lot of confidence to face the following challenges with the team", said Huera at the end of the race.
The National Road Championship had great protagonists, such as Jorge Montenegro, from Carchen, who was the leader of the race from the beginning and was only surpassed in the last two kilometers; Carapaz who was the most applauded and was at the head of the peloton for much of the journey, among others.
In the exciting road test of the National Championship, more than 100 cyclists started up, who covered 163.2 km (17 laps) in the men's elite category, on an urban circuit in the north of the Ecuadorian capital. The other categories covered: 153.6 km (16) under-23 men, 124.8 km in Elite women (13) and 115.2 km (12) under-23 women.
In the women's elite category, Esther Galarza from BiciPart EC won. She took the gold medal in a competition that fought her side by side with Michela Molina, from the Sports Federation of Azuay. Paula Jara, winner of the time trial, took the bronze and was far behind the winner. Galarza hopes that the women's events will continue for the growth of the sport.
Ana Vivar of Team Movistar Best PC, winner of the Women's Sub 23, was happy for her double gold on the road and against the clock. Her contenders, her teammate Marcela Peñafiel and Carol Masabanda were second and third respectively. They did not finish the competition.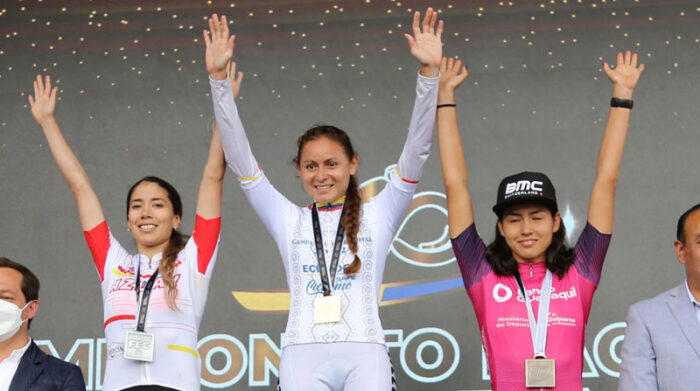 In the men's Sub 23, Lenin Montenegro from Team Banco Guayaquil was the winner and stood out for remaining in the leading squad throughout the competition. The second place went to Jordan Rodríguez (Team Banco Guayaquil) and the bronze to Brayan Obando from the Jonathan Narváez team.
For Santiago Rosero, president of the Ecuadorian Cycling Federation (FEC), the sport is growing and announced that for next year "let's see if we invent something and make a new circuit in the capital." Hundreds of people encouraged the passage of cyclists along the circuit.