The Chilean Pablo Alarcón (Canel's Pro Ciclyng of Mexico) reigned this Sunday in the third stage of the 62nd Cycling Tour of Guatemala, over 119 kilometers (km) between Jutiapa and Fraijanes.
In an impressive descent before the final finish line, the South American imposed his strength to finish off a compact peloton, which was followed by the host Rubén Acosta (Teo Copajebal) and Edwin Sam (As Quetzaltenango).
Alarcón's best result in a course in previous editions was third place, and a representative of the Andean country had not won in the land of the quetzal since 1968, when Arturo León (twice) and Manuel González did so.
The Irish Cormac McGeough (Canel's Pro Ciclyng of Mexico), winner in the initial stage, entered fourth, and the Ecuadorian veteran Byron Guamá (Movistar Best PC) fifth, who has the best position in the global ranking among the participants.
In the same group, with the same time, but tenth, the leader of the individual general classification crossed Nixon Rosero, from the Ecuadorian team, while his teammate Stalin Fuentestar arrived first by almost nothing, in sixth position.
The Guatemalan champion of the last two versions and large pre-competition favorite Mardoqueo Vásquez (Hino-One-Suzuki) took the first mountain prize, located in Atunillas 34 km away, in the fourth category.
Rosero kept the yellow leader's shirt, while Fuentestar appears nine seconds behind and Guamá third at 53. They are escorted at one minute and 11 seconds by the locals Edgar Torres (Hino-One-Suzuki) and Gerson Toc (Decorabaños).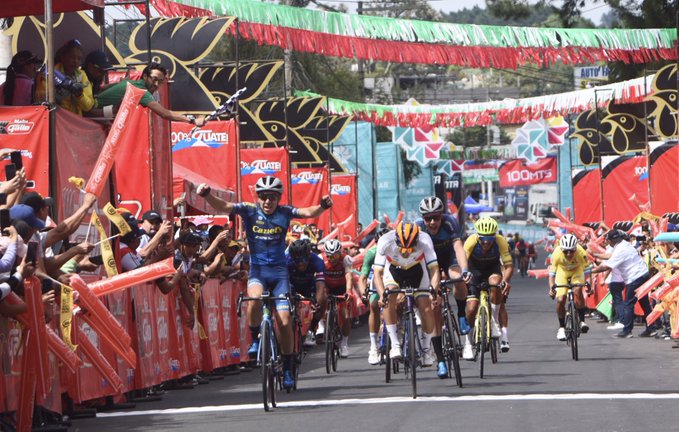 Tomorrow's route (fourth turn) covers 196 kilometers from the historic and colonial Antigua Guatemala, department of Sacatepéquez, to Totonicapán.
The largest Guatemalan sports festival includes 10 days of battle over 1,452 kilometers in total, with 60 intermediate prizes, 30 mountain prizes and the same number of flying goals.
The organizers will recognize the individual overall leader, best Guatemalan, winner of flying goals, mountain prizes, regularity, sub-23 starter and the stage winner.
Colombia has the highest number of victories (25) in the individual general classification, followed by the host Guatemala (20).
Since the beginning of the Vuelta in 1957 between the nations, in addition, Costa Rica has filed six, Spain five, Mexico three, as well as Venezuela and Cuba one each.
Source: Agencia Prensa Latina