Panamanian cycling will return this Saturday to confirm its vitality and organizational capacity with the start of one of the most important events on its calendar: the 18th version of the Tour of Panama, scheduled from July 22 to 27, with the confirmation of stars from America, such as the Colombian Miguel Ángel "Supermán" López.
There will be six days of competition in which various points in the provinces of Panama, Colón and Panama West will be visited. The first stage will be a team time trial that will take place on the Amador Causeway.
In addition, there will be a mountain stage in Altos de María, Panama West; tours on the Costa Abajo and around Gatun Lake and will culminate with a 15-lap circuit on Cinta Costera 3.
The event has the participation of 22 teams from eight countries: Mexico, Colombia, Guatemala, Costa Rica, the United States, the Dominican Republic, Cuba and Panama. It is organized by the Panamanian Cycling Federation (FEPACI) and is endorsed by the Panamanian Sports Institute (Pandeportes).
Among the names that give prestige to the event is Team Medellín-EPM, led by Miguel Ángel López, Oscar Sevilla, Walter Vargas, Wilmar Paredes, Víctor Ocampo, Brayán Sánchez, Robigson Oyola and Danny Osorio.
Other familiar faces that will ride in this version of the Tour of Panama are the locals Bolívar Espinoza, defending champion, and Christopher Jurado, the Mexican Juan Villalobos, the Costa Rican Gabriel Rojas, the American Alex Marr and the Guatemalan José Canastuj, among others.
"We have had conversations with the federation to start thinking about a velodrome," said the general director of Pandeportes, Luis Denis Arce during the presentation of the Tour on Thursday, July 20, adding that they are looking at land for its construction.
"One of the sports that grows the most, year after year, is cycling and you have to think about facilities of this type to strengthen it at the level of Panama," he confirmed, while greeting the presence of the head of the Pan American Cycling Confederation, José Pelaéz, at the opening of the fair.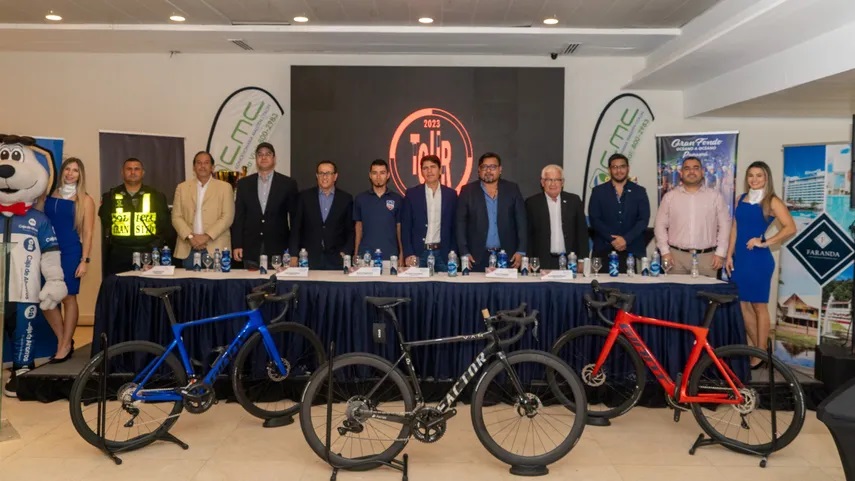 Source: www.fepaci.com.pa