The race will run from November 22 to 28 and will feature 120 riders. Richard Carapaz will be a special guest of the organization, but will not be part of the competition.
A total of 15 teams (five international and 10 national) will participate in the Tour of Ecuador, which will also distribute USD 20 thousand in prizes.
The competition will be organized by the Pichincha Sports Concentration (CDP), which has already received authorization from the national COE for its execution and will have a budget of between USD 150 and 180 thousand.
The 37th edition of the Vuelta will tour the provinces of Carchi, Imbabura, Sucumbíos, Pichincha, Manabí and Santo Domingo de los Tsáchilas.
Until Thursday, October 22, the confirmed teams are: Canel's Pro (Mexico), Team Best PC (Ecuador), Selection of Guatemala and Peru, Orgullo Paisa (Colombia). While the invited teams that have not yet confirmed their attendance are: Movistar Eagle, Eagle Shimano, Team Saitel, Santo Domingo, Toscana, GAD Atuntaqui, Team Guayaquil, Team Pichincha (all from Ecuador), the selection of Costa Rica and Ecuador and the Elevate (United States).
At a press conference, this October 22, Jaime Ruiz, president of the CDP, confirmed the presence of Richard Carapaz "in various stages" of the Vuelta as a special guest and the race will bear the name of the Carchense cyclist as a tribute.
In addition, the International Cycling Union (UCI) assigned Cuban Héctor Fermín Marcos as the UCI International Commissioner for the race.
Classifications
1- General Individual
2- Mountain Award
3- By points
4- Intermediate Sprints
5- Sub 23
6- By teams
Stages
.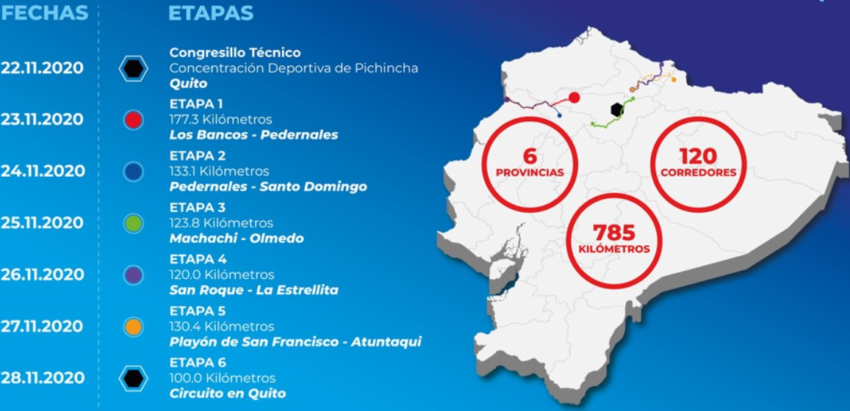 Source: Primicias.ec