Once the Tokyo 2020 Olympic Games are over, the next focus as a major international cycling event is focused on the Road World Championships in Flanders, Béligca, where our continent could be represented by 22 countries, according to the quotas granted by the Union. International Cyclist (UCI).
From September 18 to 26, the World Cup will take place, which this year 2021 celebrates its centenary. To commemorate such an important event, what better place than Flanders, one of the cradles of our sport. And it is that in this region the bicycle is part of the day to day and is a key element of its culture and history.
There, the rainbow jerseys of the elite, sub-23 and junior categories will be distributed to both men and women (except for the sub-23, which will only be a men's race). As usual, there will be online tests and time trials, and as a novelty there will be a mixed time trial by relays.
In the list for men, elite category, America classified Colombia with a complete team (8); The United States, Ecuador and Canada may carry up to six cyclists, while a single representative will have Panama, Mexico, Guatemala, Uruguay, Chile, Venezuela and Puerto Rico. The UCI clarifies that the Ecuadorian Richard Carapaz has the right due to his condition of Olympic champion and cannot be substituted if he does not attend.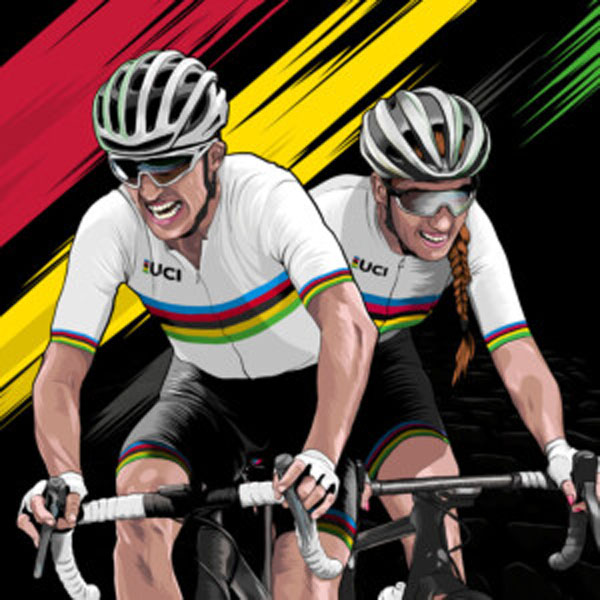 In the men's route itself, but for minors under 23, the Pan-American monarch Heberth Alejandro Gutiérrez has a safe place; while the rest of the quotas were divided as follows: the United States, Colombia and Puerto Rico will compete with five names; Ecuador, Panama and Bermuda with four; Venezuela, Costa Rica, Chile and Guatemala with three; while Canada, Mexico, Bolivia, Belize, the Dominican Republic, Antigua and Barbuda, El Salvador, Brazil, Granada, Cuba and Paraguay are endorsed with a rider.
For the women's route, the gold medal of the recent Pan American championship, Colombian Lina Marcela Hernández is insured in her own right, while the United States with six and Colombia with five will be the only countries to defend America in the grueling test.
In the emotional individual time trial, all the winners of this modality in continental competition in Santo Domingo will be able to travel to Flanders. They are the Colombian Walter Alejandro Vargas in the elite category; Chilean Héctor Quintana Vidal and Cuban Marlies Mejias. In the case of the mixed team, the only classified is the United States.
Since Copenhagen, the capital of Denmark, hosted the first World Cup in 1921, this competition has been held up to nine times in Belgium. Six of them have taken place in Flanders, which will once again be the epicenter of the cycling world this year.