In the queen stage, Nicolás Tivani (Virgen de Fátima Group) won the fourth stage of the II Vuelta del Porvenir San Luis, over 164.9 kilometers with start and finish in Juana Koslay. The Argentine rider achieved his second victory in this edition and now commands the general classification.
The Argentine runner took the victory with a time of 3 hours 47 minutes and 31 seconds ahead of his compatriot Mauricio Quiroga of Team Coraza and Adelmar Reyes of Team Medellín EMP. The Colombian-Spanish Oscar Sevilla commands in the mountains and among the teams he leads the Team Medellín EMP.
In the early stages, the Spanish Sevilla, the Argentine Cobarrubia and the Brazilian Da Rosa rehearsed a breakout that lasted almost 90 kilometres. They managed to get more than four minutes, but the wind, the heat and the demanding circuit ended up finishing the escape.
On the climb to the Mirador, the group of favorites broke up into several parts and another race was put together. In the final part, an important escape of five runners was formed, among which was the Colombian Aldemar Reyes (Team Medellín EPM).
The beetle was accompanied by Alejandro Durán and Leandro Messineo (Chimbas Te Quiero), Mauricio Quiroga (Team Coraza) and Nicolás Tivani (Virgen de Fátima Group).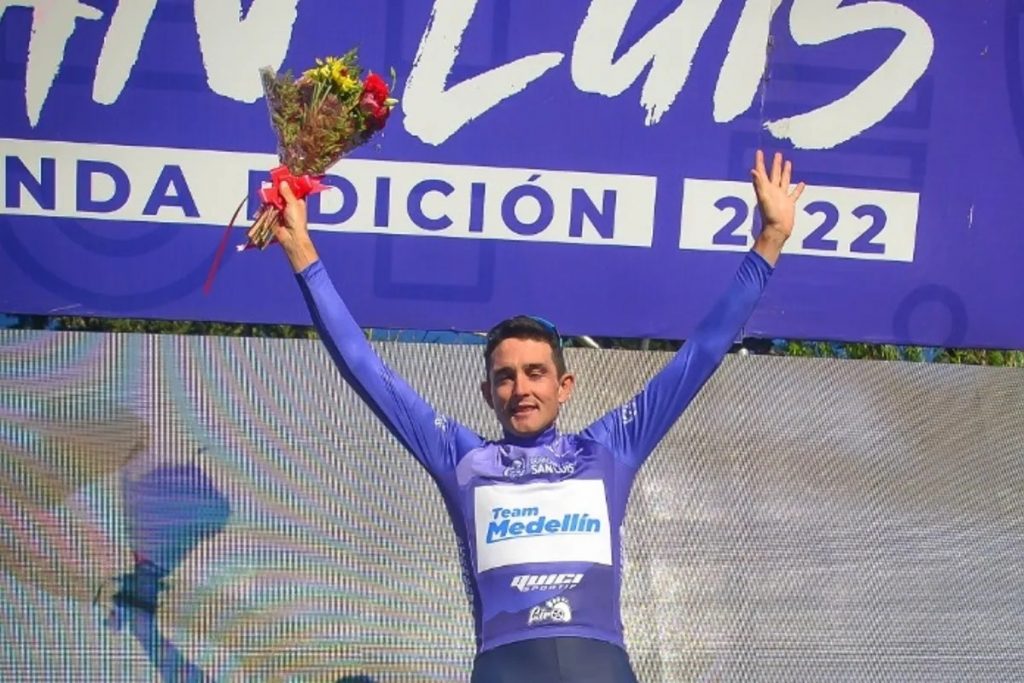 In the end, the leading quintet played for victory in the sprint. In which Nicolás Tivani was the fastest in the breakaway and won his second stage in the San Juan race beating Quiroga. Aldemar Reyes completed the podium in third position.
As for the general classification, Nicolás Tivani leads the positions with only 11 seconds ahead of Colombian Aldemar Reyes and 14 seconds over Mauricio Quiroga.
This Sunday the last stage of the gaucho race will be run, a 126-kilometer journey with start and finish in the City of San Luis. A circuit will be carried out in which the riders will take five laps on a terrain with various undulations.
RESULTS FOURTH STAGE – VUELTA DEL PORVENIR SAN LUIS
Germán Tivani – VIRGIN FATIMA-S.JUAN BIKE 03:47:31
Mauricio Quiroga – TEAM ARMOR mt.
Aldemar Reyes – TEAM MEDELLIN-EPM mt.
Leandro Messineo – CHIMBAS I LOVE YOU mt.
Alejandro Duran – CHIMBAS I LOVE YOU at 5 sec.
Gerardo Tivani – VIRGEN FATIMA-S.JUAN BIKE at 57 sec.
,Maximilian Navarrete – RAWSON TOWNSHIP at 57 sec.
Oscar Bazán – CONTINENTAL SAN LUIS at 57 sec.
Tomas Moyano – CONTINENTAL SAN LUIS at 57 sec.
Héctor Quintana – NATIONAL SELECTION OF CHILE at 57 sec.
Óscar Sevilla – TEAM MEDELLIN-EPM at 57sec,
Sergio Fredes – KTM at 57 sec.
Wladimir Martínez ELITE CASTAÑO TEAM at 57 sec.
Juan Pablo Dotti – UNION E.PUB SAN JUAN a sec.
Fabio Duarte – TEAM MEDELLIN-EPM at 57 sec.
GENERAL RANKING
German Tivani – VIRGIN FATIMA-S.JUAN BIKE 12:19:50
Aldemar Reyes – TEAM MEDELLIN-EPM at 11
Mauricio Quiroga – TEAM ARMOR at 14
Leandro Messineo – CHIMBAS I LOVE YOU at 15
Alejandro Duran – CHIMBAS I LOVE YOU at 22
Laureano Rosas – ELEC 3-SPORT GUILDS at 42
Juan Pablo Dotti – UNION E.PUB SAN JUAN a 46
Agustín Del Negro – ARG TV UNION at 53
Sergio Fredes KTM at 1:02
Brayan Sánchez – TEAM MEDELLIN-EPM at 1:20
Fabio Duarte – TEAM MEDELLIN-EPM at 1:29
Maximiliano Navarrete – RAWSON MUNICIPALITY at 1:29
Héctor Quintana SUB23 NATIONAL SELECTION OF CHILE at 1:46
Javier Jamaica – TEAM MEDELLIN-EPM at 1:46
Óscar Bazán – CONTINENTAL SAN LUIS at 1:52