LIMA. The multi-champion and Olympic medalist Mariana Pajón won the gold medal in this BMX Race modality in the Pan American Games.
The Olympic champion and medalist, Mariana Pajon, won the gold medal in the BMX Race Cycling, in the Pan American Games Lima 2019, after leaving behind the Brazilian Paola Reis and the Venezuelan Stefany Hernández.
The number one of this discipline and double Olympic medalist in 2012 and 2016 was imposed with a time of 36,323, while the Brazilian Paola Reis finished second with 37,583.
The Venezuelan Stefany Hernández won the bronze by registering the third fastest time with 38,106.
Brazil's Priscilla Stevaux (38,122), Shanaya Howell de Aruba (38,630), Colombia's Gabriela Bolle (38,877) and Canadians Drew Mechielsen (39,054) and Daina Tuchscherer (39,601) completed the race.
On this day the BMX men's finals were also disputed, which won the Ecuadorian Alfredo Campo after imposing on the Brazilian Anderson Ezequiel de Souza and the Argentine Federico Villegas, who raised silver and bronze, respectively. (EFE)
BMX RACE FEMALE.
PAJON, Mariana (COL) 36.323 GOLD
REIS, Paola (BRA) +0:01.260 SILVER
HERNANDEZ, Stefany (VEN) +0:01.783 BRONZE
STEVAUX, Priscilla (BRA) +0:01.799
HOWELL, Shanayah (ARU) +0:02.307
BOLLE, Gabriela (COL) +0:02.554
MECHIELSEN, Drew (CAN) +0:02.731
TUCHSCHERER, Daina (CAN) +0:03.278
Alfredo Campo, Ecuadorian cyclist: "This medal means all the hard work"
Ecuadorian Alfredo Campo said that never giving up and working hard was key to achieving the BMX silver medal of the Toronto 2015 Pan American Games today.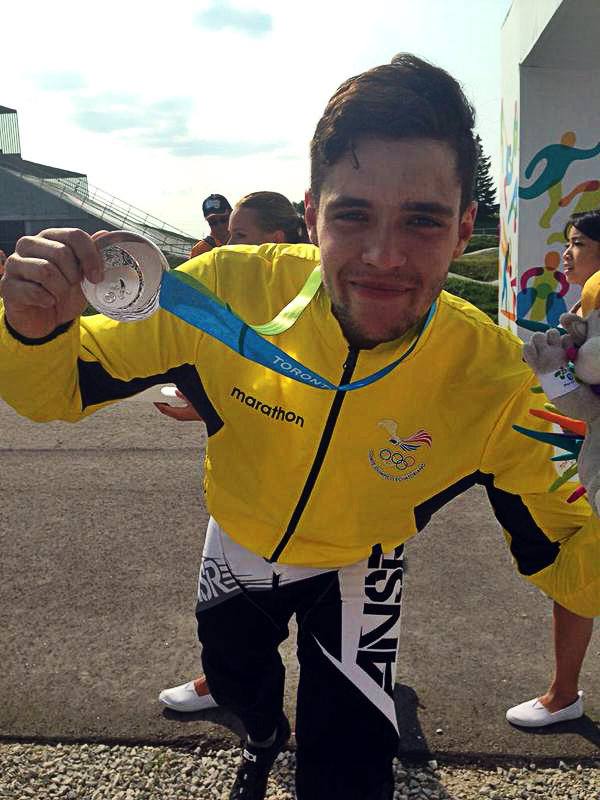 "This medal means all the hard work, perseverance, never giving up. I want to dedicate it to the family and people who trust in one," the cyclist told Efe a few minutes after receiving the medal.
Campo is originally from the city of Cuenca, in southern Ecuador, but currently resides in the United States where it has the right conditions to practice high-performance BMX and fulfill its dream of being one of the best in the world.
On today's race, Campo commented that it was as expected, "very hard" and that the result serves as motivation for the Rio 2016 Olympic Games.
"This is thanks to the effort and work that one has been doing for a long time. A lot of things are coming with a view to the Olympians," he said.
The cyclist thanked his father and an uncle for involving him in this sport and assured that his triumphs are due to "a gift that God gave me."
"Day by day we will continue to work hard. Tomorrow is a new day. For now, I will enjoy the medal," he said.
The gold medal was awarded by the Canadian Tory Nyhaug and the bronze by the American Nicholas Long. (eluniverso.com)
BMX RACE MALE.
CAMPO, Alfredo (ECU) 32.113 GOLD
EZEQUIEL DE SOUZA, Anderson (BRA) +0:00.380 SILVER
VILLEGAS, Federico (ARG) +0:00.601 BRONZE
REZENDE, Renato (BRA) +0:00.844
PALMER, James (CAN) +0:01.276
MILANO, Jefferson (VEN) DNF
MOLINA, Gonzalo (ARG) DNF
RAMIREZ Carlos COL 12 MAR 1994 DNF