YORKSHIRE, GREAT BRITAIN. The Italian cyclist Samuele Batistella is the new Under-23 World Champion on the road after the Dutchman Nils Eekhoff has been disqualified, who was the one who had reached the finish line in the first position of the race, on 173 kilometers of travel and played this Friday with Departure at Doncaster and finish at Harrogate, in the British county of Yorkshire.
Eekhoff was disqualified for having taken advantage of going "after a car" after a fall in the first stages of the race, with 130 kilometers left until the end.
Thus, Batistella was gold, the Swiss Stefan Bisseger silver and the British Thomas Piddock bronze. They also participated in the final sprint of seven runners that won the medals and won the disqualified Eeklhoff, the Colombian Sergio Higuita, the Danish Andreas Lorentz Kron and the Norwegian Tobias Foss. Higuita got into the fight but Kron and Foss didn't get their strength.
It was a regular race of the category, very intense, with a lot of rhythm and many demarcations in which the Spaniards ran out of options about 40 kilometers away, when none of them entered the first of the three groups in the that the platoon was divided. Although they did not enter the second, he dreamed for a few kilometers to reach the first but failed.
The race was decided in the group of 24 that arrived ahead of the final circuit, of 14 km and with a final slope that they had to take two laps.
The last one was a sextet ahead that soon stayed in a quintet with Bissegger, Foss, Batistella, Pidcock and the Polish Szymon Sajnok, who was the next to yield.
Behind, the Colombian Higuita, winner of a stage in the last Tour of Spain, led a chase of four, which remained in three and was accompanied by Eekhoff and Kron.
The trio hunted the quartet, the Dutch controlled the moments before a sprint launched by the Colombian and in which Eekhoff ended up winning by centimeters and not without difficulties, but could raise his arms in a sign of victory on the same finish line.
After the septet, a group of 12 runners at 38 seconds the first of them, including the Polish Sajnok eighteenth.
CLASSIFICATION ROUTE U23 MEN (173 KM).
Samuele Battistella (ITA) 3:53:52 GOLD
Stefan Bissegger (SUI) 3:53:52 SILVER
Thomas Pidcock (GBR) 3:53:52 BRONZE
Sergio Higuita (COL) 3:53:52
Andreas Kron (DEN) 3:53:52
Tobias Foss (NOR) 3:53:52
Pascal Eenkhoorn (NED) +0:00:38
Mikkel Bjerg (DEN) +0:00:38
Mathieu Burgaudeau (FRA) +0:00:38
Torjus Sleen (NOR) +0:00:8
Stan Dewulf (BEL) +0:00:38
Georg Zimmermann (GER) +0:00:38
Kevin Geniets (LUX) +0:00:38
Kaden Groves (AUS) +0:00:38
Jonas Rutsch (GER) +0:00:40
Morten Hulgaard (DEN) +0:00:40
Szymon Sajnok (POL) +0:00:42
Jake Stewart (GBR) +0:00:52
Ilan Van Wilder (BEL) +0:01:28
Ide Schelling (NED) +0:01:32
Mauro Schmid (SUI) +0:02:01
Vadim Pronskiy (KAZ) +0:02:55
Robin Froidevaux (SUI) +0:03:02
Yevgeniy Fedorov (KAZ) +0:03:02
Tilen Finkst (SLO) +0:03:02
Nicolas Zukowsky (CAN) +0:03:02
Simon Guglielmi (FRA) +0:03:02
Alfred Wright (GBR) +0:03:02
Matus Stocek (SVK) +0:03:02
Andre Carvalho (POR) +0:03:02
Attila Valter (HUN) +0:03:02
Masahiro Ishigami (JPN) +0:03:02
Stanislaw Aniolkowski (POL) +0:03:02
Daan Hoole (NED) +0:03:02
Barnabás Peák (HUN) +0:03:02
Johan Jacobs (SUI) +0:03:02
Aljaz Jarc (SLO) +0:03:06
Jakub Otruba (CZE) +0:0:07
Stuart Balfour (GBR) +0:03:07
Ziga Jerman (SLO) +0:03:07
Kevin Vermaerke (USA) +0:03:12
Jasper Philipsen (BEL) +0:05:08
Idar Andersen (NOR) +0:05:11
Leon Heinschke (GER) +0:05:11
Joel Suter (SUI) +0:05:21
Markus Wildauer (AUT) +0:07:44
Patrick Haller (GER) +0:07:46
Alessandro Covi (ITA) +0:08:27
Gleb Brussenskiy (KAZ) +0:10:08
Ben Healy (IRL) +0:10:34
Miguel Heidemann (GER) +0:10:34
Filip Maciejuk (POL) +0:10:34
Harry Sweeny (AUS) +0:10:39
Markus Pajur (EST) +0:12:11
Marijn van den Berg (NED) +0:12:42
Luc Wirtgen (LUX) +0:12:42
Carlos Salgueiro (POR) +0:12:42
Juan Fernando Calle Hurtado (COL) +0:012:42
Jens Reynders (BEL) +0:12:42
Patrick Gamper (AUT) +0:12:42
Tomas Barta (CZE) +0:12:42
Mathias Norsgaard Jorgensen (DEN) +0:12:42
Siim Kiskonen (EST) +0:12:42
Julian David Molano (COL) +0:12:42
IÑIGO ELOSEGUI (ESP) +0:12:42
Valerii Fatkullin (RUS) +0:12:42
LAŠINIS VENANTAS (LTU) +0:12:42
Stefan Kolb (AUT) +0:12:42
Jaka Primozic (SLO) +0:12:42
Gregorio Ferri (ITA) +0:12:42
Matthew Walls (GBR) +0:12:42
Szymon Krawczyk (POL) +0:12:42
Henok Mulubrhan (ERI) +0:12:42
Ádám Kristóf Karl (HUN) +0:12:42
Artur Sowinski (POL) +0:12:42
João Almeida (POR) +0:12:42
Evan Burtnik (CAN) +0:12:42
Giovanni Aleotti (ITA) +0:12:42
Óscar Bazan (ARG) +0:12:42
Theo Delacroix (FRA) +0:12:42
ROGER ADRIÀ (ESP) +0:12:42
Gleb Kugaevski (RUS) +0:12:42
Marc Oliver Pritzen (RSA) +0:12:42
Laurent Gervais (CAN) +0:12:42
Paul Wright (NZL) +0:12:42
Petr Rikunov (RUS) +0:12:42
Martin Urianstad (NOR) +0:12:42
Ludvik Holstad (NOR) +0:12:42
Xianjing Lyu (CHN) +0:12:42
Ian Garrison (USA) +0:12:42
Eddy Finé (FRA) +0:12:42
Arthur Kluckers (LUX) +0:12:42
Jaakko Hänninen (FIN) +0:12:42
Vitor Zucco Schizzi (BRA) +0:12:42
Colin Heiderscheid (LUX) +0:12:42
Michel Ries (LUX) +0:12:42
Jonas Iversby Hvideberg (NOR) +0:12:42
Daniel Dina (HUN) +0:12:42
Veljko Stojnic (SRB) +0:12:47
Matis Louvel (FRA) +0:12:55
Petr Kelemen (CZE) +0:15:53
Mikhail Fokin (RUS) +0:18:02
Adam Foltan (SLO) +0:20:35
Lukas Kubis (SLO) +0:20:35
Matteo Jorgenson (USA) +0:20:35
Jason Oosthuizen (RSA) +0:20:35
Samuel Jenner (AUS) +0:20:35
Luis Enrique López (HND) +0:20:35
White Nicholas (AUS) +0:20:35
Biniyam Ghirmay (ERI) +0:20:3
Ziga Horvat (SLO) +0:20:37
Shunsuke Imamura (JPN) +0:20:37
Ka Hoo Fung (HKG) +0:25:03
Yahor Shpakouski (BLR) DNF
Erik Fetter (HUN) DNF
Brent Van Moer (BEL) DNF
Pier-André Coté (CAN) DNF
Diego Ferreyra (CHI) DNF
Nicolás David Gómez (COL)
Valentin Ferron (FRA) DNF
Ethan Batt (NZL) DNF
Kai Kwong Tso (HKG) DNF
Tyler Cole (TTO) DNF
Shoi Matsuda (JPN) DNF
James Fouché (NZL) DNF
Emil Dima (ROM) DNF
Guillermo Andres Beltrán (CHI) DNF
Natnael Tesfatsion (ERI) DNF
Moise Mugisha (RWA) DNF
Samuel Mugisha (RWA) DNF
Pak Hang Ng (HKG) DNF
Paul Daumont (BFA) DNF
Karl Patrick Lauk (EST) DNF
Byron Munton (RSA) DNF
Lóránt Balázsi (ROM) DNF
José Eduardo Autran (CHI) DNF
Daniel Habtemichael (ERI) DNF
Jacob Hindsgaul Madsen (DEN) DNF
Stan Van Tricht (BEL) DNF
Kwan Lok Choi (HKG) DNF
José Lucián Martínez (ARG) DNF
Tobias Bayer (AUT) DNF
Brandon Mcnulty (USA) DNF
Ognjen Ilic (SRB) DNF
Jacob Eriksson (SWE) DNF
Carmelo Urbano (ESP) DNF
Erik Bergstrom Frisk (SWE) DNF
Francisco Galván (ESP) DNF
Alberto Dainese (ITA) DNF
Hasani Hennis (AIA) DNF
Lance Haidet (USA) DNF
Emanuel Duarte (POR) DNF
Liam Magennis (AUS) DNF
Emil Lindgren (SWE) DNF
Hugo Forssell (SWE) DNF
Nils Eekhoff (NED) DQS
Andreas Stokbro (DEN) DQS
Alexander Konychev (ITA) DQS
Megan Jastrab, new Junior World Champion en route
Junior cyclist Megan Jastrab continued this Friday with the American recital at the Yorkshire World Championships (Great Britain) on road cycling, where the American team already has three golds, winning the women's online test for the youngest runners.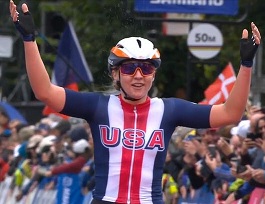 Jastrab, who succeeds the Austrian Laura Stigger in the medal winners, adds her world title to the one won on Thursday by Quinn Simmons, also online and in the junior category, and on Tuesday Chloé Dygert in the women's elite chrono.
The American, still junior of the first year, forged her victory after responding to an attack by Russian Aigul Gareeva, who left the leading group at 2,200 meters of goal looking for the double, after winning the time trial on Monday.
The Russian did not give up her efforts and Jastrab beat her in a sprint in which the fastest of the group, the Belgian Julie de Wilde and the Dutch Lieke Nooijen, even surpassed a clueless Gareeva to take the silver and bronze.
They were the key moments of a test in which the rain only appeared at the end and the falls, the mishaps and the montoneras made life bitter for many. (EFE)
JUNIOR WOMEN ROUTE CLASSIFICATION (86 KM).
Megan Jastrab (USA) 2:08:00 GOLD
Julie de Wilde (BEL) 2:08:00 SILVER
Lieke Nooijen (NED) 2:08:00 BRONZE
Aigul Gareeva (RUS) 2:08:00
Elynor Backstedt (GBR) 2:08:00
Noemi Rüegg (SUI) +0:0:03
Kata Blanka Vas (HUN) +0:0:03
Lea Curinier (FRA) +0:0:05
Silje Mathisen (NOR) +0:0:05
Magdeleine Vallieres (CAN) +0:0:07
Camilla Alessio (ITA) +0:0:09
Anna Shakley (GBR) +0:0:09
Silke Smulders (NED) +0:0:11
Mariia Miliaeva (RUS) +0:0:14
Valeria Golayeva (RUS) +0:0:14
Noëlle Buri (SUI) +0:0:14
Catalina Anais Soto (CHI) +0:0:18
Dominika Wlodarczyk (POL) +0:0:18
Sofia Collinelli (ITA) +0:0:18
Eluned King (GBR) +0:0:1
Lina Svarinska (LAT) +0:0:21
Sofiia Shevchenko (UKR) +0:0:27
Matilde Vitillo (ITA) +0:0:30
Natalia Krzeslak (POL) a 0:33
Maeve Gallagher (IRL) +0:0:33